Everyone Has the Right to My Opinion: Investor's Business Daily Pulitzer Prize-Winning Editorial Cartoonist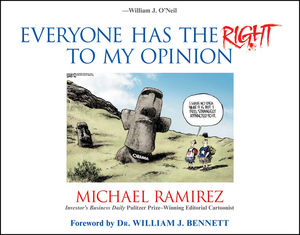 Everyone Has the Right to My Opinion: Investor's Business Daily Pulitzer Prize-Winning Editorial Cartoonist
ISBN: 978-0-470-44104-6
Jan 2011
272 pages
Description
In Everyone Has the Right to My Opinion, Michael Ramirez, the internationally known editorial cartoonist for Investor's Business Daily, offers a comprehensive collection of his award-winning cartoons, accompanied by an introduction to the images highlighted throughout the book. Each cartoon shows that a picture is worth a thousand words and transforms the news of the day into eye-catching, provocative, and hilarious images that draw people into the democratic process. His commentary on everything from the economy and markets to politics and international affairs offers a unique perspective on today's issues.
Foreword.
Acknowledgments.
Introduction.
Chapter 1. The 1994 Pulitzer Collection.
Chapter 2. Moral Values.
Chapter 3. Hollywould.
Chapter 4. Domestic Affairs.
Chapter 5. Economics.
Chapter 6. Politics.
Chapter 7. Elections.
Chapter 8. World Affairs.
Chapter 9. The Middle East.
Chapter 10. September 11.
Chapter 11. War.
Chapter 12. 2008 Pulitzer Collection.
Conclusion.
Backword.
Index.