Everything I Know About Business I Learned from my Mama: A Down-Home Approach to Business and Personal Success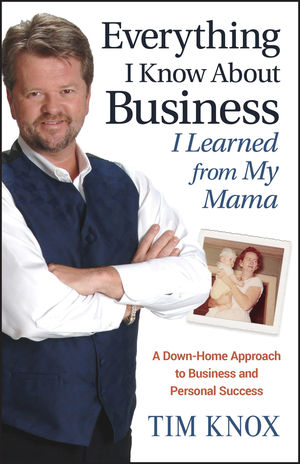 Everything I Know About Business I Learned from my Mama: A Down-Home Approach to Business and Personal Success
ISBN: 978-0-470-12756-8 June 2007 224 Pages
Description
Praise for

Everything I Know About Business I Learned from My Mama

"Not your typical success book by any means. It's laugh-out-loud funny, full of great stories and outstanding business ideas, and has real heart. This is one I would spend my money on!"
--Larry Winget, New York Times bestselling author of It's Called Work for a Reason! and star of the A&E hit reality series Big Spender

"Every now and then I find a book that is so inspiring I immediately start making a list of all the people I know who must have a copy. Everything I Know About Business I Learned from My Mama is one of those books."
--Dan Miller, author of 48 Days to the Work You Love

"This book is a great combination: both entertaining and educational. You'll get some terrific ideas and insights and have so much fun in the process, you might not even realize you're learning. I recommend it."
--Mark Sanborn, author of The Fred Factor

"This is one of those rare books that works on every level. Knox is an absolute pleasure to read, his stories are joyfully engaging, and there's a business lesson on every page. I enthusiastically recommend that you get this book immediately. Like me, you won't put it down until you've reached the last page. Hey, Tim, write another one soon!"
--Joe Calloway, author of Work Like You're Showing Off!

"Think of this book as Jeff Foxworthy meets Donald Trump. You get all of The Donald's wisdom dished up in some of the most hilarious business adventures ever described. Only Tim would learn a major business lesson from having his daddy try to electrocute him. If it ain't fun, don't do it. By that advice, you should read this book. It's an entrepreneur's gold mine nestled in a silly foam container."
--Jerry Newman, author of My Secret Life on the McJob
Foreword.
About the Author.
Acknowledgements.
Is This Book Really For You?
About This Book.
Chapter 1. How the Heck Did I Get Here?
Chapter 2. The Day I Took a Beating in the Produce Business.
Chapter 3. Maybe I was Just too Dumb to Know When to Quit.
Chapter 4. A Quick Word About PMA.
Chapter 5. How to Figure Out What Success Really Means to You.
Chapter 6. When Business Stops Being Fun, Get Out of Business.
Chapter 7. A Tale of Lightbulbs and red Tape.
Chapter 8. Maybe I just Think Too Much.
Chapter 9. Serial Entrepreneur Doesn't Mean You Manufacture Breakfast Food.
Chapter 10. Burning Out Like an Old Muffler.
Chapter 11. Are You Just Waiting for the Right Opportunity to Come Along?
Chapter 12. Be a Serious Entrepreneur-The World Has Enough Contractors.
Chapter 13. There IS No Such Thing as a Perfect Entrepreneur.
Chapter 14. There Are No Dumb Business Questions, Only Dumb Business Questions Askers.
Chapter 15. Start Your Business When Life Tells You To, Never Before.
Chapter 16. How Important Are Book Smarts and Experience to Business Success?
Chapter 17. Are You Ever Too Old to Start Your Own Business?
Chapter 18. Look Out Boys, them Crazy Girls Are Catching Up!
Chapter 19. How to Choose the Business That's Right for You.
Chapter 20. Just How Big is Your Really Big Idea?
Chapter 21. Learning About Market Research from the Back of the Boat.
Chapter 22. Perceived Value Is in the Eye of the Beholder.
Chapter 23. What's in a Name? When It Comes to Your Business, Plenty.
Chapter 24. When Signing a Lease, Look for the worlds "First Born".
Chapter 25. Never Borrow Money from Anyone Who Sits Across from You at Thanksgiving Dinner.
Chapter 26. Operator Error Is Why Most Businesses Really Fail.
Chapter 27. Do a CSI on a Failed Business to Discover the Real Cause of Death.
Chapter 28. Use Roadmapping to Plot Business and Personal Growth.
Chapter 29. Business Lessons Learned at the Mall.
Chapter 30. Piercing, Tattoos, and Other Important Matters of Business.
Chapter 31. How to Boost Your Bottom Line with Two Little Worlds.
Chapter 32. Most Customer Service People Are Walking Oxy-Morons.
Chapter 33. You Should Never Stop Caring About What Your Customers Think.
Chapter 34. Sometimes You Have to Give Customers the Boot.
Chapter 35. Managing Employees Is a Little Like Herding Cats.
Chapter 36. It It Were Easy, Everybody Would Do It.
Chapter 37. Is Brick and Mortar Dead as a Door Nail?
Chapter 38. Moving Your Business to the World Wide Web.
Chapter 39. Can You Really Make Money with an Online Business?
Chapter 40. The Last Word ( For Now).
For More Information on Tim Knox Products and Services.