Evidence-Based Bullying Prevention Programs for Children and Youth: New Directions for Youth Development, Number 133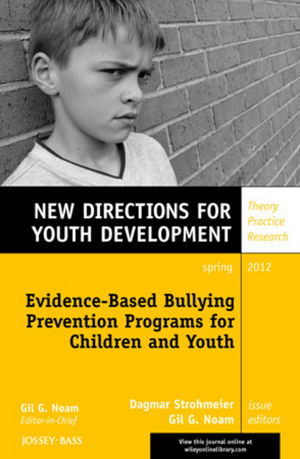 Evidence-Based Bullying Prevention Programs for Children and Youth: New Directions for Youth Development, Number 133
ISBN: 978-1-118-36214-3 May 2012 Jossey-Bass 112 Pages
Description
Bullying is a hot topic at schools across the nation. Chronic involvement in bullying is associated with many intrapersonal, interpersonal, and academic problems, and even sporadic experiences of bullying are harmful. During the last two decades, several prevention and intervention programs have been developed by research teams all over the world. Many of these programs have been adopted in the United States.
This volume introduces five evidence-based anti-bullying programs developed in European countries, where much of the early innovations and adaptations have occurred. Based on state-of-the-art knowledge, This volume answers:
How can educators detect that bullying is going on in their school?
How can educators respond competently in acute bullying situations?
How can educators prevent bullying in their schools in the long run?
This is the 133rd volume of New Directions for Youth Development, the Jossey-Bass quarterly report series dedicated to bringing together everyone concerned with helping young people, including scholars, practitioners, and people from different disciplines and professions.
Table of contents
Issue Editors' Notes 1
Dagmar Strohmeier, Gil G. Noam
Executive Summary 3
1. Bullying in schools: What is the problem, and how can educators solve it? 7
Dagmar Strohmeier, Gil G. Noam
This chapter examines how educators can detect bullying, how they can best tackle serious cases of bullying, and how they can best prevent bullying in the long run.
2. The Bernese Program against Victimization in Kindergarten and Elementary School 15
Françoise D. Alsaker, Stefan Valkanover
The basic principle of this program is to enhance teachers' ability to address bullying in kindergarten and elementary school. The program consists of six modules, each corresponding to a specific topic.
3. The Zero program 29
Erling Roland, Unni Vere Midthassel
This program is based on three main principles: a zero vision of bullying, collective commitment among all employees at the school using the program, and continuing work.
4. Making bullying prevention a priority in Finnish schools: The KiVa antibullying program 41
Christina Salmivalli, Elisa Poskiparta
This program is predicated on the idea that a positive change in the behaviors of classmates can reduce the rewards gained by the perpetrators of bullying and consequently their motivation to bully in the first place.
5. School-based prevention of bullying and relational aggression in adolescence: The fairplayer.manual 55
Herbert Scheithauer, Markus Hess, Anja Schultze-Krumbholz, Heike Dele Bull
This is a school-based program to prevent bullying. It uses cognitivebehavioral methods, methods targeting group norms and group dynamics, and discussions on moral dilemmas.
6. ViSC Social Competence Program 71
Dagmar Strohmeier, Christine Hoffmann, Eva-Maria Schiller, Elisabeth Stefanek, Christiane Spiel
This program defines the prevention of aggression and bullying as a school development task. It consists of universal and specific actions that are implemented through in-school teacher training and a class project for students.
7. Risk and protective factors, longitudinal research, and bullying prevention 85
Maria M. Ttofi, David P. Farrington
This chapter presents the results from two systematic/meta-analytic reviews of longitudinal studies on the association of school bullying with adverse health and criminal outcomes later in life.
8. Resources 99
This chapter provides additional resources on the programs, such as webpages and further readings.
Index 101