Evidence-Based Design for Multiple Building Types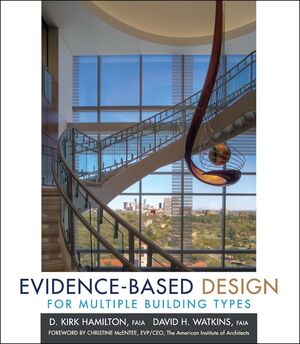 Evidence-Based Design for Multiple Building Types
ISBN: 978-0-470-12934-0 December 2008 288 Pages
Description
Evidence-based design, which bases design decisions on the best available current research evidence, is gaining traction among architects. Expanding the field from its origins in healthcare to other building types such as education, criminal justice, commercial, industrial, and places of worship, this book introduces design professionals to the concept of evidence-based design and its use in the creation of high performance environments. It focuses on the methods by which design professionals and their clients can create better buildings by critically interpreting the implications of credible research and careful observation of completed projects. Drawing a direct link between evidence and application, the authors provide examples of credible research that supports evidence-based design are presented, as well as specific applications and case study examples.
Foreward By Chris McEntee.
Acknowledgements.
ntroduction.
PART I: THE CASE FOR EVIDENCE-BASED DESIGN.
Chapter 1: What is Evidence-Based Design?.
Chapter 2: Precedent-Based Professions & Transforming Architecture.
Chapter 3: The New Practitioner.
Chapter 4: Sustainable Design is Founded on Evidence (Lia Johnson).
PART II: EVIDENCE-BASED DESIGN FOR BUILDING TYPES.
Chapter 5: Evidence-Based Medicine and Healthcare Design.
Chapter 6: Evidence in the Design of Learning Environments (Alejandro Iriarte Dent).
Chapter 7: Evidence and Data in the Design of Workplace Environments.
Chapter 8: Data Drives the Design of Retail Environments.
Chapter 9: Evidence-Based Environments for Science.
Chapter 10: Evidence in Places for Assembly and Performance.
Chapter 11: Evidence in Historic Preservation & Adaptive Reuse.
Chapter 12: Evidence in Urban Planning.
PART III: DESIGNING WITH EVIDENCE.
Chapter 13: Process & Methods for Evidence-Based Design.
Chapter 14: Evidence Sources & Limitations.
Chapter 15: The Practitioner as Researcher (A. Ray Pentecost III).
Chapter 16: The Challenges for Architectural Education.
Conclusion: Architecture will always be Knowledge-Based.
Bibliography.
Index.
"Hamilton and Watkins have written a guide for architects and those in related professions that details how to create better, more effective designs by using an approach based on evidence and outcomes rather than intuition and anecdotal information." (Book News, May 2009)