Evidence-Based Gastroenterology and Hepatology, 2nd Edition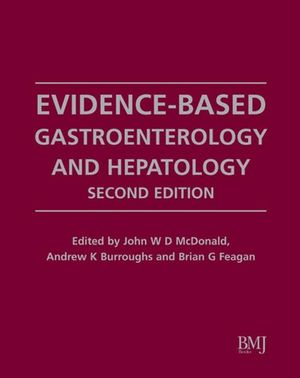 Evidence-Based Gastroenterology and Hepatology, 2nd Edition
ISBN: 978-1-405-14012-6
Apr 2008
640 pages
Description
Traditional textbooks in this field have emphasized the basic sciences of pathology, biochemistry and physiology. Evidence-based Gastroenterology and Hepatology covers all the major diseases of the gastrointestinal tract and liver, utilizing clinical epidemiology to present the strongest and most current evidence for interventions.


This second edition is edited and written by leading gastroenterologists from around the world, each chapter summarizes the evidence so that better informed decisions will be made about which treatments to offer to patients.


It provides practising Gastroenterologists and Surgeons with clear information regarding the diagnosis and treatment of pancreatic diseases, giving clear evidence and experience-based material that is immediately relevant to clinical practice.


Also contains a list of recommended reading at the end of each chapter.


Take a look at up to date information at www.evidbasedgastro.com
Introduction.
Gastroesophageal reflux disease.
Barrett's esophagus.
Esophageal motility disorders: achalasia and spastic motor disorders.
Ulcer disease and helicobacter pylori.
Non-steroidal anti-inflammatory drug-induced gastroduodenal toxicity.
Non-variceal gastrointestinal hemorrhage.
Functional dyspepsia.
Celiac disease.
Crohn's disease.
Ulcerative colitis.
Pouchitis after restorative proctocolectomy.
Microscopic and collagenous colitis.
Metabolic bone disease in gastrointestinal disorders.
Colorectal cancer in ulcerative colitis: surveillance.
Colorectal cancer: population screening and surveillance.
Irritable bowel syndrome.
Clostridium difficile disease.
Ogilvie's syndrome.
Gallstone disease.
Acute pancreatitis.
Obesity.
Hepatitis C.
Hepatitis B.
Alcoholic liver disease.
Non-alcoholic fatty liver disease.
Hemochromatosis and Wilson disease.
Primary biliary cirrhosis.
Autoimmune hepatitis.
Primary sclerosing cholangitis.
Portal hypertensive bleeding.
Ascites, hepatorenal syndrome and spontaneous bacterial peritonitis.
Hepatic encephalopathy.
Hepatocellular carcinoma.
Fulminant hepatic failure.
Liver transplantation: prevention and treatment of rejection.
Liver transplantation: prevention and treatment of infection.
Management of hepatitis B and C after liver transplantation
""This is an extremely interesting and well-produced book [...] The Editors...are to be complimented for preparing the second edition of a book which differs significantly from many other gastrointestinal texts and...should be present in any specialised library frequented by gastroenterologists aiming to practise the best available clinical evidence.""
G. Biananchi Porro, Digestive and Liver Diseases


Provides practising Gastroenterologists and Surgeons with clear information regarding the diagnosis and treatment of pancreatic diseases

Gives clear evidence and experience-based material that is immediately relevant to clinical practice

Includes an international contributor team with several high profile US names

Contains a list of recommended reading at the end of each chapter