Evidence-Based Health Economics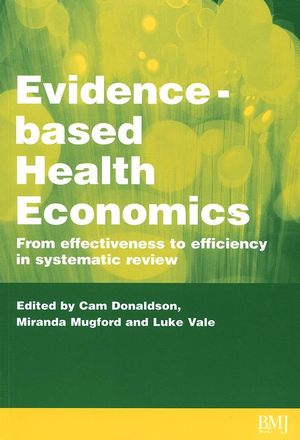 Evidence-Based Health Economics
ISBN: 978-0-470-71588-8
Mar 2009, BMJ Books
168 pages
Product not available for purchase
Description
In his seminal work From Effectiveness to Efficiency: Random Reflections on Health Care, Archie Cochrane said, in 1971,

'More and more, requests for additional facilities will have to be based on detailed arguments with "hard evidence" as to the gain to be expected from the patient's angle and the cost. Few could possibly object to this.'

These words are as true today as when they were written. Evidence-based clinical practice isolated from economic issues is not a realistic goal. Furthermore, narrow evidence-based medicine methodologies may lead to an inefficient health policy and greater inequalities in health.

Evidence-based Health Economics recognises these issues and has brought together some of the world's leading thinkers and practitioners of economic evaluation in health care, all of whom have been involved with the "evidence-based movement", as participants, critics or both.

These experts demosntrate not only the need for the use of evidence-based principles in economic evaluation but also that such principles should themselves be based on health economics. Case studies are outlined which show how to bring economic evaluation and systematic review together and how to use such evaluations in the clinical setting. The book also shows how economics can be used to broaden the evidence base for a more efficient and equitable health policy, and sets a future research agenda for this challenging area of work.
Contributors.
Preface.
1. From effectiveness to efficiency: an introduction to evidence-based health economics (Cam Donaldson, Miranda Mugford and Luke Vale).
2. Using systematic reviews in economic evaluation: the basic principles (Cam Donaldson, Miranda Mugford and Luke Vale).
3. Reviewing economic evidence alongside systematic reviews of effectiveness: example of neonatal exogenous surfactant (Miranda Mugford).
4. The place of economic analyses in systematic reviews: a clinician's viewpoint (Cindy Farquhar and Paul Brown).
5. Evidence-based economic evaluation: how the use of different data sources can impact results (Douglas Coyle and Karen M. Lee).
6. Methodological quality of economic evaluations of health care intervention – evidence from systematic reviews (Tom Jefferson, Luke Vale and Vittorio Demicheli).
7. Effectiveness estimates in economic evaluation (Vittorio Demicheli, Tom Jefferson and Luke Vale).
8. Criteria list for conducting systemic reviews based on economic evaluation studies – the CHEC project (Andre Ament, Silvia Evers, Marielle Goossens, Henrica de Vet and Maurits van Tulder).
9. Evaluating economic interventions: a role for non-randomised designs? (Ivar Sønbø Kristiansen and Toby Gosden).
10. Making the problem fit the solution: evidence-based decision making and "Dolly" economics (Stephen Birch).
11. Evidence-based medicine meets economic evaluation – an agenda for research (Michael Drummond).
12. Glossary of terms for health economics and systematic review (Gillian Currie and Braden Manns).
Index
The first book to discuss systematic review in economic analysis
Provides case histories to show how economic evaluations work in the clinical setting
Shows how to do evidence-based analyses and how economics can be used to broaden the evidence-base for health policy