Evidence-Based Infectious Diseases, 2nd Edition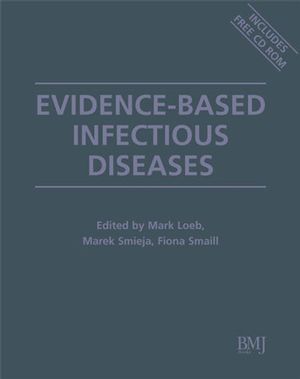 Evidence-Based Infectious Diseases, 2nd Edition
ISBN: 978-1-444-35710-3 August 2011 BMJ Books 336 Pages
Description
The fully updated Second Edition of this case-led text provides an excellent introduction to evidence-based Clinical Practice for the major areas of infectious disease management. The new edition takes on a brand new design and focus, making the book more accessible to junior doctors in infectious diseases and microbiology and general internists.
Edited and written by the world's leading infectious disease specialists, Evidence-Based Infectious Diseases contains thoroughly revised clinical chapters, reporting on all new major trials and is ideal for; trainees and clinical instructors in infectious diseases and microbiology, internal medicine physicians and public health physicians.
Table of contents
Table of Contents.
Part 1: Specific diseases.
Skin and soft-tissue infections.
Bone and joint infections.
Infective endocarditis.
Meningitis and encephalitis.
Management of community-acquired pneumonia.
Tuberculosis.
Diarrhoea.
Urinary tract infections.
Sexually transmitted infections.
Human immunodeficiency virus (HIV).
Hepatitis.
Influenza pandemic.
Critical care.
Part 2: Special populations.
Infection control.
Infections in neutropenic hosts.
Infections in general surgery.
Infections in the thermally injured patient.
Infections in healthcare workers.
Long term care in special populations
Reviews
"This edition has been updated and revised, with new chapters on influenza, critical care, and infections in long-term care, and a new section on acquired infection in transplantation. … Contributors work in infectious diseases, surgery, epidemiology, and other medical fields, around the world." (Book News, December 2009)