Evidence-Based Medicine: In Sherlock Holmes' Footsteps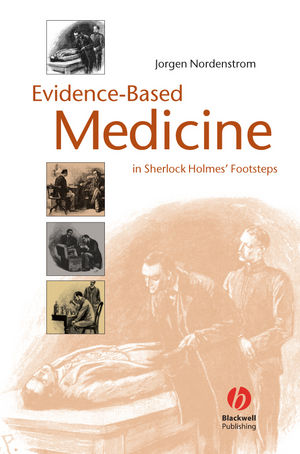 Evidence-Based Medicine: In Sherlock Holmes' Footsteps
ISBN: 978-0-470-75095-7 January 2008 Wiley-Blackwell 104 Pages
Description
This lively handbook on the fundamentals of Evidence-based Medicine (EBM) leads the reader, step by step, through a process that proceeds from a patient's medical history, via information searches and critical appraisal of the literature, to recommendations for treatment.


Using a simple four-step approach, the author illustrates how to develop better questions and more effective searches, resulting in objective and clinically relevant information that can be evaluated and implemented in day-to-day practice. Sherlock Holmes and Dr Watson, the famous fictional detectives, assist throughout, drawing parallels between criminal and medical investigation, and simplifying the processes and themes of EBM.


Evidence-Based Medicine in Sherlock Holmes' Footsteps is a concise, accessible and instructive introduction to EBM for medical students, health care trainees, doctors and allied health professionals, and a valuable resource for anyone wanting to improve their ability to search, access and interpret the wealth of information at the fingertips of today's medical community.
FOREWORD.
INTRODUCTION.
STEP 1 FORMULATE AN ANSWERABLE QUESTION.
Information Sources.
Choosing the Appropriate Database.
Systematic Reviews/Meta-Analysis.
Meta-Search Engines.
Clinical Practice Guidelines.
Critically Appraised Topics (CATs).
Primary Information Sources.
Library Resources.
Other EBM Portals.
STEP 2 INFORMATION SEARCH.
Make a Wide Search with High Sensitivity.
Principal Database Search Strategy.
Limit Your Search Results/Increase Your Specificity.
Use a Good Hit for Further Searches.
STEP 3 REVIEW OF INFORMATION AND CRITICAL APPRAISAL.
Quality Assessment of Information.
Evaluation of the Scientific Quality.
Quality of Evidence.
STEP 4 EMPLOY THE RESULTS IN YOUR DAILY PRACTICE.
Applicability.
Balance between Benefit and Harm.
Strength of Recommendation.
Patient's Perceptions.
Make a Recommendation.
Communicating the Evidence to Your Patient.
DEDUCTION, ANALYSIS AND MEDICINE.
REFERENCES.
SUMMARY OF INFORMATION SOURCES AND SEARCH ENGINES.
INTERNET-BASED SPREADSHEETS.
SHERLOCK HOLMES REFERENCES.
LIST OF ILLUSTRATIONS.
RECOMMENDED EBM LITERATURE.
GLOSSARY.
INDEX
"A useful and introductory book … Small and easy to read. The arrangement and layout of the book are easy on the eye … Some interesting examples used to explain some of the basic concepts." (
Evidence Based Medicine
, August 2008)
"Small enough to read on the bus to placement but contains enough 'meat' to keep you entertained. It is clearly set out, and using Sherlock Holmes' steps really makes it a novel and interesting read. I think it's the best evidence based decision making book I have read." (The Placebo Effect, HYMS Gazette)
"Based on a solid foundation…concise…handbook that learners and practitioners alike could easily carry around…In this regard, the book is quite a success." (Canadian Medical Association Journal)
Reviews of the original Swedish publication

"The entertaining analogy between critical appraisal and Sherlock Holmes´detective work, with well-found and appropriate quotations, makes the reading a pure pleasure." (Läkartidningen 2004; 40:3100-1)
"The book is a little pearl and is warmly recommended." (Ugeskrift for Laeger 2004; 18 October:43)
"The author has succeeded in creating a comprehensive, relevant and at times witty book. It is a useful and readable introduction [to EBM] that is warmly recommended." (Tidskrift for den Norske Laegeforening 2005;1:125)

"[The author]has written an ingenious book, a compact EBM textbook in a light format, with a twinkle in his eye. The subject has been packaged for easy digetion – fish liver oil encapsulated in candy." (Lääkärilehti 2005;3:322)

"This book written by Surgery Professor J.N. is a little pearl! Not only is it tasteful, humorous and well structured; it is also comprehensive, nutritious and – most importantly- understandable in an area where other more voluminous books fail." (Svensk Bibliotekstjänst 2004:15)
A unique and user-friendly step-by-step introduction to evidence-based medicine


Breaks the evidence-based approach into four steps: formulating an answerable question; information search; reviewing information and critical appraisal; employing the results in daily practice

Introduces concepts with the use of easy-to-remember acronyms, clinical examples, tables, illustrations and selective quotes from Sherlock Holmes