Evidence-Based Ophthalmology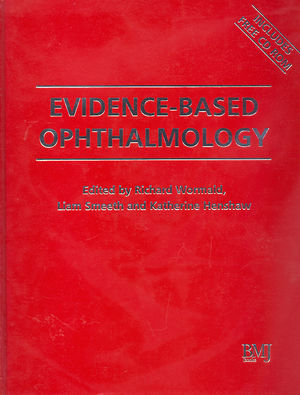 Evidence-Based Ophthalmology
ISBN: 978-0-470-69815-0 April 2008 BMJ Books 376 Pages
Download Product Flyer
Download Product Flyer
Download Product Flyer is to download PDF in new tab. This is a dummy description. Download Product Flyer is to download PDF in new tab. This is a dummy description. Download Product Flyer is to download PDF in new tab. This is a dummy description. Download Product Flyer is to download PDF in new tab. This is a dummy description.
Description
Evidence-Based Ophthalmology offers a unique approach to managing eye disease. From systematic reviewing of evidence, this book provides an overview of techniques for optimum management in key areas, including glaucoma, cataract and retinal disease – an invaluable reference source for practitioners worldwide representing an important contribution to the literature.
Key Features



International authorship by leading Cochrane participants

An unbiased method for summarising and disseminating the evidence

Identifies gaps in evidence, and therefore research opportunities

Free-access update website giving the latest trial data and recommendations for implementation in practice
Includes a free fully searchable CD-ROM
Table of contents
Part I: the basics.
Finding the evidence.
Synthesising the evidence.
Putting the evidence into practice.
Part II Overview of the evidence in key areas.
Allergic conjunctivitis.
Acute bacterial conjunctivitis.
Viral conjunctivitis.
Screening older people for impaired vision.
Congenital and infantile cataract.
Congenital glaucoma.
Retinopathy of prematurity.
Ophthalmia neonatorum.
Unilateral amblyopia.
Infantile esotropia.
Accommodative esotropia.
Childhood exotropia.
Prevention of myopia progression.
Entropian and ectropion.
Thyroid eye disease.
Lacrimal obstruction.
Trachoma.
Corneal abrasion and recurrent erosion.
Herpes simplex keratitis.
Suppurative keratitis.
Ocular toxoplasmosis.
Onchocerciasis.
Sight-threatening idiopathic (autoimmune) uveitis.
Cytomegalous retinitis patients with AIDS.
Anterior uveitis.
Primary open angle glaucoma and ocular hypertension.
Acute and chronic angle glaucoma.
Modification of wound healing in glaucoma drainage surgery.
Cataract surgical techniques.
Intraocular lens implant biocompatability.
Multi-focal and monofocal intraocular lenses.
Perioperative management of cataract surgery.
Age-related macular degeneration.
Treatment of lattice degeneration and asymptomatic retinal breaks to prevent rhegmatogenous&.
Surgery for proliferative vitreoretinopathy.
Rhegmatogenous retinal detachment.
Surgical management of full-thickness macular hole.
Retinal vein occlusion.
Medical interventions for diabetic retinopathy.
Photocoagulation for sight threatening diabetic retinopathy.
Vitrectomy for diabetic retinopathy.
Optic neuritis.
Arteritic and non-arteritic anterior ischaemic optic neuropathy.
Idiopathic intracranial hypertension.
Toxic and nutritional optic neuropathies.
Traumatic optic neuropathy.
Ocular adnexal and orbital tumours.
Uveal melanoma.
Retinoblastoma.
Vision rehabilitation
Reviews
Journal Graefes Archive:
This volume is unique. It offers a firm anchor in the immense troubled seas of medical literature. The book is accompanied by a free, fully searchable, convenient-to-use CDROM. The three editors have succeeded in harmonizing the input of the 64 highly competent and reputable authors who wrote the 53 chapters covering all subspecialties in ophthalmology.

This valuable textbook starts with a well-structured glossary and a section on the basics of evidence in medicine. The three chapters of this section enlighten the reader about the essentials of medical evidence. The following 50 chapters on all areas of clinical ophthalmology accumulate information which respects the prerequisites of scientific evidence, thus making the vast literature much more manageable. Each chapter comprises a series of relevant questions which are followed by a paragraph of evidence focussed on the problem, epidemiology, clinical considerations, management options and comments—altogether a very handy format. Each chapter is concluded by a series of references on publications at a high level of evidence. Major trials are categorized in appropriate tables and integrated into the text. An easy-to-use index at the end of the book rounds off its contents. The book's price of GBP 90 is undoubtedly very good value. I do hope this book finds a broad application for the benefit of critical patient care.
Features
Includes free CD Rom
A unique approach to the practice of opthalmology
International authorship by leading Cochrane participants and NIH trialists