Evidence-Based Orthodontics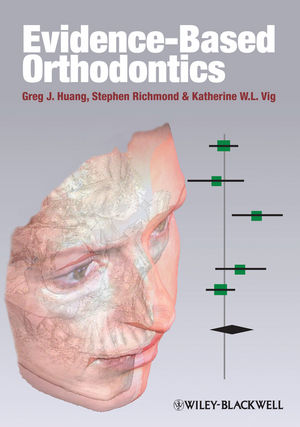 Evidence-Based Orthodontics
ISBN: 978-1-118-68848-9
Jul 2013, Wiley-Blackwell
348 pages
Description
Evidence-Based Orthodontics satisfies the educational demands of orthodontics, which demands the integration of the best research evidence with the clinician's expertise and the patient's unique values and circumstances.

This land-mark text is the first to be devoted to the methodology, principles and practice of evidence-based practice in orthodontics. It aims to serve as a reference for those wishing to understand the principles of evidence-based practice including the foundation for clinical study design, epidemiology and the statistical inferences from data. The ability to define a search strategy from established databases and to identify relevant clinical and translational research in the scientific published literature requires a new approach in orthodontic education.  Evidence-Based Orthodontics provides a contemporary approach to those strategies in clinical orthodontic practice. The growing ability to translate critical appraisals of evidence into clinical practice and evaluate clinical evidence for its validity and potential usefulness requires an understanding of basic elements in epidemiology and biostatistics.

Evidence-Based Orthodontics provides its readers with a cogent, clear resource with which to navigate and understand this important subject area. It provides students and practitioners of orthodontics with an indispensible guide to this vital tenet of education, research, and clinical practice.

 
Foreword vii

Gordon Guyatt
Contributor List ix
Part 1 Principles 3
Chapter 1 A Historical Perspective of Evidence-Based Orthodontics 5
Katherine W.L. Vig
Chapter 2 Clinical Research Designs 15
Robert J. Weyant
Chapter 3 Electronic Searching for Clinical Trials Information 31
Anne Littlewood
Part 2 Selected Topics 47
Chapter 4 The Treatment of Class II Malocclusion—Have We the Evidence to Make Decisions? 49
Kevin O'Brien and Jonathan Sandler
Chapter 5 External Root Resorption and Orthodontic Treatment—Assessment of the Evidence 63
Belinda J. Weltman
Chapter 6 Malocclusion, Orthodontic Treatment, and Periodontal Health—An Assessment of the Evidence 89
Anne-Marie Bollen
Chapter 7 Stability of Anterior Open Bite Correction—An Assessment of the Evidence 97
Greg J. Huang and Geoffrey M. Greenlee
Chapter 8 Orthodontics and Temporomandibular Joint (TMJ) Disorders 119
Friederike Luther and Fraser McDonald
Chapter 9 Self-Ligation 135
Padhraig S. Fleming
Chapter 10 Prevention of Demineralization During Orthodontic
Treatment with Fluoride-Containing Materials or Casein Phosphopeptide-Amorphous Calcium Phosphate 149
Philip E. Benson
Chapter 11 Invisalign Therapy—A Systematic Review of Lower Quality Evidence 167
Jason M. Bressler, Stefanie Hamamoto, Gregory J. King, and Anne-Marie Bollen
Chapter 12 Retention 181
Simon J. Littlewood, Declan T. Millett, David R. Bearn, Bridget Doubleday, and Helen V. Worthington
Chapter 13 Quality of Outcome 191
Stephen Richmond and Alexei Zhurov
Chapter 14 Stability of Orthognathic Surgery 217
Donald R. Joondeph
Chapter 15 Orthodontic Treatment of the Transverse Dimension—Assessment of the Evidence 233
Steven D. Marshall
Chapter 16 Class III Malocclusion—The Evidence on Diagnosis and Treatment 247
Joseph G. Ghafari, Ramzi V. Haddad, and Maria E. Saadeh
Part 3 Evidence-Based Orthodontics in Perspective 281
Chapter 17 Evidence-Based Care in Context 283
William Shaw
Chapter 18 Playing Doctor: Evidence-Based Orthodontics 293
Lysle E. Johnston, Jr.
Chapter 19 Refl ections on a Decade of Evidence-Based Dentistry 301
David L. Turpin
Index 307
"The editors are to be congratulated for producing a highly readable text. This volume deserves a place in every dental library, on the reading list of every orthodontic training programme and in the hands of every neophyte orthodontist."  (European Journal of Orthodontics, 20 September 2013)
Land-mark text surveys the principles and practice of evidence-based orthodontics
Covers clinical study design, epidemiology, and understanding of statistical data
Equips readers with critical apparatus for understanding orthodontic literature
Reviews the available evidence and studies in orthodontics
Clear and cogent approach to clarify this vital area of study, research, and practice