Evidence-Based Practice in Primary Care, 2nd Edition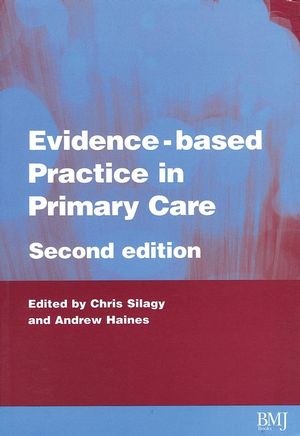 Evidence-Based Practice in Primary Care, 2nd Edition
ISBN: 978-0-727-91568-9 August 2001 BMJ Books 220 Pages
Description
Evidence Based Practice in Primary Health Care is split into two sections. The frist discusses how the individual can apply evidence based medicine in the clinical setting, and the second covers the wider issue of changes in organisation and strategy to promote better and more effective delivery of care within a practice or primary care group. Chapters are writtten by leading specialists in evidence based primary care from Australlia, the UK,and mainland Europe.
Contributors.
Preface to the second edition.
Getting started: how to set priorities and define questions.
Tracking down the evidence.
Critical appraisal.
Applying the evidence with patients.
Screening and diagnostic tests.
Evaluating the application of evidence.
An overview of strategies to promote implementation of evidence based health care.
Clinical practice guidelines.
Role of information technology.
Continuing medical education as a means of lifelong learning.
Integrating research evidence into practice.
Appendix 1: Using MEDLINE to search for evidence.
Appendix 2: Some further sources of information and resources that facilitate evidence-based practice.
Index
In the Royal Society of Medicine Journal review of the first edition of this book, David Seamark wrote: "Evidence-based medicine provokes reactions from enthusiasm to loathing. Silagy and Haines' well laid out book seeks to reconcile the two extremes by explaining why evidence-based medicine is relevant to daily practice in primary care and by asking primary care professionals to regard themselves as learners and not just practitioners."
All chapters reviewed and updated, including references and website addresses
Continuing appeal through comprehensive step by step introduction and coverage of the key issues of evidence based medicine
An internationally appealing and relevant text, reflected in the geographic spread of the authorship