Evidence-Based Psychotherapy Treatment Planning DVD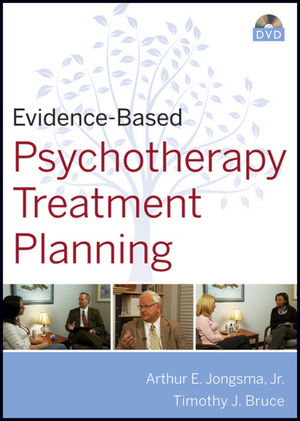 Evidence-Based Psychotherapy Treatment Planning DVD
ISBN: 978-0-470-41505-4 April 2010
Description
Improve the Quality of Mental Health Care
The Evidence-Based Treatment Planning Video Series offers step-by-step guidance on how to use empirically supported treatments to inform the entire treatment planning process. In a viewer-friendly manner, Drs. Art Jongsma and Tim Bruce define empirically supported treatment, describe levels of evidence criteria, and examine the essential elements of treatment planning. Understanding and applying the information learned from the DVDs increases the likelihood of client improvement and helps you meet the requirements of most accrediting agencies and funding sources.
This DVD:
Provides a succinct history and critique of the evidence-based treatment movement including therapist and client factors, outcome measurement, the therapeutic relationship, and applicability

Explores the advantages of empirically supported treatment for the client, clinician, agency, and profession

Offers a clear direction for therapy without losing sight of therapeutic relationship factors

Discusses the six essential elements of a treatment plan in a tutorial section on how to create an effective and clear treatment plan
System requirements:
Playable on a set top DVD player or a computer with a DVD-ROM drive, at least 512 MB system RAM, and a software DVD decoder

PC requires Windows 2000 or higher; Mac requires OS9 or higher

Sound card and speakers required to listen to audio
I. Introduction to Evidence-Based Treatment Planning.
Purpose of the Series.
Empirically Informed Treatment.
II. History of Empirically Supported Treatment (EST) Movement.
Great Britain.
APA Division 12.
III. Levels of Evidence Criteria.
Well Established.
Probably Efficacious.
EST's Identified.
SAMHSA, NICE, and Others.
EST and Evidence based Practice.
IV. Advantages of Using EST's and EBP.
For the Client.
For the Clinician.
For the Agency.
For the Profession.
For National Policy.
V. Limitations of the EST Approach.
Efficacy, Effectiveness, and Utility.
Process and Content of Therapy.
Relationship, Therapist, and Client Factors.
VI. Six Essential Elements of Treatment Planning.
Identify the Primary and Secondary Problems.
Describe the Problem's Behavioral Manifestation (often using DSM Criteria).
Arrive at a Diagnosis.
Define and Select Long Term Goals.
Define and Create Short Term Objectives.
Define and Create Therapeutic Interventions.
VII. How Do We Apply Research Evidence to Treatment Planning?
Informing Goals, Objectives, and Interventions.
Therapeutic Relationship Factors.
Tailoring the Treatment Plan to the Individual Client.
VIII. Summary and Closing.