Evidence-Based Psychotherapy Treatment Planning Workbook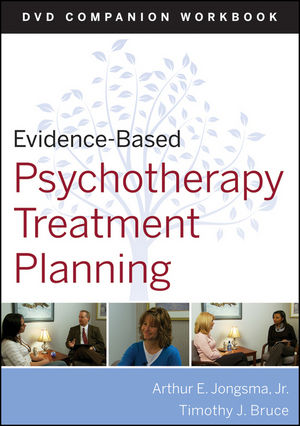 Evidence-Based Psychotherapy Treatment Planning Workbook
ISBN: 978-0-470-54813-4
Jun 2010
48 pages
Description
With the need for patients to receive care that is proven effective arises as well the need to train mental health practitioners in the latest in Evidence-Based Practice (EBP). Evidence-Based Psychotherapy Treatment Planning DVD Workbook covers the most common DSM-IV-TR disorders and other presenting problems. This workbook demonstrates the techniques and treatment interventions covered in the DVD (sold separately). Staff are guided in their implementation of the interventions with their clients. Ideal for training mental health professionals at any level.
Introduction
Chapter 1 A Brief History of the Empirically Supported Treatments  Movement?
Chapter 2 How are Empirically Supported Treatments Related to Evidence-Based Practice?
Chapter 3 What Are Advantages of Using Empirically Supported Treatments?
Chapter 4 What Are Limitations of Identified Empirically Supported Treatments?
Chapter 5 What Are the Six Steps in Building a Treatment Plan?
Chapter 6 How Do You Integrate Empirically Supported Treatments into Treatment Planning?
Closing Remarks and Resources. 
Appendix A Chapter Review Test Question Answers Explained.