Evidence Informed Nursing with Older People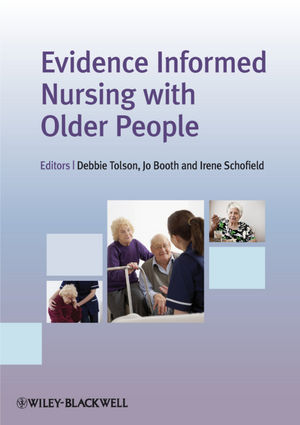 Evidence Informed Nursing with Older People
ISBN: 978-1-444-33113-4 April 2011 Wiley-Blackwell 264 Pages
Description
Evidence Informed Nursing with Older People is an essential text for nursing students and registered nurses working with older people who are seeking to make connections between theory, evidence and value based gerontological practice. The rapidly rising aging global population requires that more attention is given to the needs and requirements of older people. This textbook is a key resource for nursing students and registered nurses working with older people who wish to improve their practice.

Evidence Informed Nursing with Older People takes a unique case-study approach, with individual chapters presenting nursing practice-based case studies on some of the most common areas of care faced by nurses working around the world with older people. Each case study illustrates the connections between practice, theory, evidence and values. User-friendly and accessible, this textbook includes key points, reflection activities, test points, and perspectives from older people throughout. 

Key features
An up-to-date treatment of the nursing contribution to key geriatric syndromes
International expert contributions from the UK, Sweden, Switzerland, Australia and China
An evidence-based, case-study approach to the care of older people
Contributors.
Foreword.
Acknowledgements.
1 Principles of Gerontological Nursing (Debbie Tolson, Joanne Booth and Irene Schofield).
2 Applying the Evidence to Practice (Joanne Booth, Debbie Tolson, Irene Schofield and Maggie Lawrence).
3 Understanding Relationships within Care (Jayne Brown, Yvonne Robb, Andrew Lowndes, Kathleen Duffy, Debbie Tolson and Mike Nolan).
4 Truth-Telling and the Evidence (Anthony Tuckett and Debbie Tolson).
5 Delirium (Irene Schofield and Wolfgang Hasemann).
6 Palliative Care with Older People (Deborah Parker and Katherine Froggatt).
7 Promoting Urinary Continence (Joanne Booth, Suzanne Kumlien and Yuli Zang).
8 Promoting Physical Activity with Older People (Dawn Skelton, Marie McAloon and Lyle Gray).
9 Age Related Hearing Problems (Debbie Tolson, Tracy Day and Joanne Booth).
10 Low Mood and Depression (Andrew Lowndes, William McDonald and Yvonne Awenat).
11 Promoting Nutrition with Frail Older People (Jennie Jackson and Susan Polding-Clyde).
12 Pain and Older People (Derek Jones and Pat Schofield (with acknowledgement to Ron Marsh)).
13 Protecting Older People from Healthcare Associated Infections (Kay Currie and Jacqui Reilly).
14 Pressure Ulcers (Janice Bianchi and John Timmons).
15 Achieving Evidence Informed Nursing with Older People (Debbie Tolson, Joanne Booth and Irene Schofield).
Index.
"In my view, this is recommended reading for all staff working in care of older people, which is most of us."  (Nursing Times.net, 18 April 2012)
"This is an accessible text for the educated reader and one that will surely become a standard handbook for nurses who care for older people."  (Nursing Older People, 1 April 2012)
""Readers who approach it with an enquiring mind will be rewarded with a deeper understanding of the issues."" (Nursing Standard, 17 August 2011)