Evidence and Procedures for Boundary Location, 6th Edition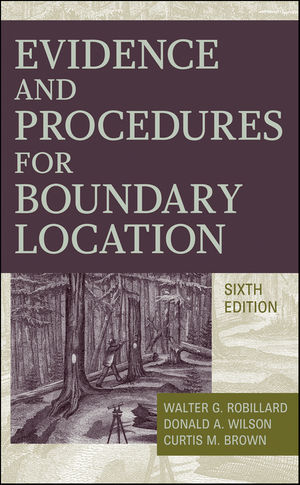 Evidence and Procedures for Boundary Location, 6th Edition
ISBN: 978-0-470-95194-1 April 2011 688 Pages
Description
Professional surveyors and many civil engineers must understand the laws of boundaries and the evidence necessary for efficient and accurate boundary determination. This new edition of the preeminent text/reference on the subject is brought completely up to date, with new material on the use of technology in surveying and its legal ramifications, the use of forensic investigative techniques in the discovery of obscured evidence, new case law examples throughout, and new exhibits help illustrate the concepts presented.
Preface.
1 Introduction.
2 Definition, Scope, and Nature of Evidence.
3 Words as Evidence.
4 Evidence and Technology.
5 Other Types or Species of Evidence.
6 Calculations and Measurements as Evidence.
7 Plats as Evidence.
8 Evidence of Water Boundaries.
9 Using Historical Knowledge as Evidence.
10 Recording and Preserving Evidence.
11 Procedures for Locating Boundaries Described by Words.
12 Original Surveys and Related Platting Laws.
13 Unwritten Transfers of Land Ownership.
14 Guarantees of Title and Location.
15 Using and Understanding Words in Boundary Descriptions.
16 Professional Liability.
17 Professional Stature.
18 The Surveyor in Court.
19 The Surveyor, the Law, and Evidence: A Professional Relationship.
Appendix A The Surveyor's Report.
Appendix B Wooden Evidence.
Appendix C The [Quasi-]Judicial Function of Surveyors.
Appendix D Geodaesia.
Appendix E Land Acts that Created the Public Lands.
Index.