Evidence-based Decisions and Economics: Health Care, Social Welfare, Education and Criminal Justice, 2nd Edition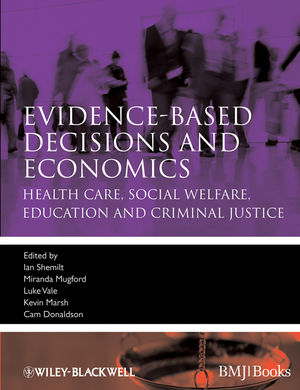 Evidence-based Decisions and Economics: Health Care, Social Welfare, Education and Criminal Justice, 2nd Edition
ISBN: 978-1-444-32040-4 September 2011 BMJ Books 216 Pages
Description
The need for evidence-based decisions that take account of both effectiveness and economics is greater now than ever. Using case studies and illustrative examples throughout the authors describe how the activities and outputs of evidence synthesis, systematic review, economic analysis and decision-making interact within and across different spheres of health and social policy and practice.

Expanding on the first edition the book now covers approaches to evidence synthesis that combine economics and systematic review methods in the applied fields of social welfare, education and criminal justice, as well as health care. Written by economists and health services researchers closely involved in developing evidence-based policy and practice it showcases current state-of-the-art methodology and will be an invaluable read for all policy-makers and practitioners using evidence to inform decisions, analysts conducting research to support decisions and students discovering the need for evidence-based decisions to incorporate economic perspectives and evidence.
Preface
1. From effectiveness to efficiency? An introduction to evidence-based decisions and economics for health care, social welfare, education and criminal justice (Miranda Mugford, Ian Shemilt, Luke Vale, Kevin Marsh, Cam Donaldson, Jacqueline Mallender).
2. The role of review and synthesis methods in decision models (Kevin Marsh).
3. The role of economic perspectives and evidence in systematic review (Rob Anderson, Ian Shemilt).
4. The role of economic evidence in formulation of public policy and practice (Sarah Byford, Barbara Barrett, Richard Dubourg, Jennifer Francis, Jane Sisk).
5. Generalisability, transferability, complexity and relevance (Damian G Walker, Yot Teerawattananon, Rob Anderson, Gerry Richardson).
6. Equity, efficiency and research synthesis (David McDaid, Franco Sassi).
7.Searching for evidence for cost-effectiveness decisions (Julie Glanville, Suzy Paisley).
8. Identifying and reviewing health state utility values for populating decision models (John Brazier, Diana Papaioannou, Anna Cantrell, Suzy Paisley, Kirsten Herrmann).
9. Use of evidence in decision models (Doug Coyle, Karen M Lee, Nicola J Cooper).
10. Grading economic evidence (Massimo Brunetti, Francis Ruiz, Joanne Lord, Silvia Pregno, Andrew D Oxman).
11. Meta-regression models of economics and medical research (TD Stanley).
12. From evidence-based economics to economics-based evidence: using systematic review to inform the design of future research (Ed Wilson, Keith Abrams).
13. Complex problems or simple solutions? Enhancing evidence-based economics to reflect reality (Chantale Lessard, Stephen Birch).
14. Evidence-based decisions and economics: lessons for practice (Luke Vale).
15. Evidence-based decisions and economics: an agenda for research (Michael Drummond).
16. Glossary (Asmaa Abdelhamid, Ian Shemilt).
Index.