Evolution, 2nd Edition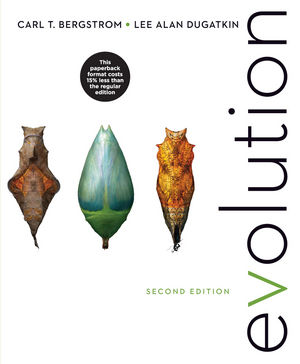 Evolution, 2nd Edition
ISBN: 978-0-393-60103-9
*Norton agency titles
352 pages
Product not available for purchase
Description
Get your students thinking critically about evolution.
Evolution presents foundational concepts through a contemporary framework of population genetics and phylogenetics that is enriched by current research and stunning art. In every chapter, new critical thinking questions and expanded end-of-chapter problems emphasizing data interpretation reinforce the Second Edition's focus on helping students think like evolutionary biologists.
PART I FOUNDATIONS OF EVOLUTIONARY BIOLOGY
1. An Overview of Evolutionary Biology
2. Early Evolutionary Ideas and Darwin's Insight
3. Natural Selection
4. Phylogeny and Evolutionary History
5. Inferring Phylogeny
PART II EVOLUTIONARY GENETICS
6. Transmission Genetics and the Sources of Genetic Variation
7. The Genetics of Populations
8. Evolution in Finite Populations
9. Evolution at Multiple Loci
10. Genome Evolution

PART III THE HISTORY OF LIFE
11. The Origin and Evolution of Early Life
12. Major Transitions
13. Evolution and Development
14. Species and Speciation
15. Extinction and Evolutionary Trends

PART IV EVOLUTIONARY INTERACTIONS
16. Sex and Sexual Selection
17. The Evolution of Sociality
18. Coevolution
19. Human Evolution
20. Evolution and Medicine
New Research Examples: A new study from 2014 examining how selection has favoured certain traits that reduce road-kill of swallows (Ch 3); a new experiment from 2012 involving genome sequencing of family members to explore the relationship between father's age and the number of de novo mutations in the offspring (Ch 6); a new study from 2013 examining clonal interference in a yeast population (Ch 9)
New Art and Pedagogy: Including new Key Concept questions that challenge students to think critically and apply the concepts to real-life examples; new Key Concept Application questions at the end of each chapter provide a helpful resource for in-class discussion and homework questions; and updated in-text figures with richer, more vibrant colours and photographs
New Resources: The new InQuizitive adaptive learning modules provide personalized help for students to hone their skills in analysing data, understanding the fundamentals of population genetics, and building phylogenetic trees.
The most thorough and accessible coverage of phylogenetics and population genetics
Coverage of contemporary topics that highlight the current state of the field
Expanded emphasis on problem solving helps students think like evolutionary biologists
An art program as rich as the field it illustrates