Exam 70-443 & 70-450: Microsoft SQL Server Database Design and Optimization with Lab Manual Set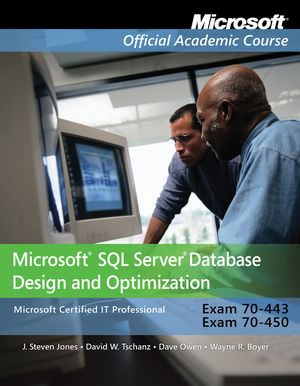 Exam 70-443 & 70-450: Microsoft SQL Server Database Design and Optimization with Lab Manual Set
ISBN: 978-0-470-18374-8
Dec 2009
456 pages
Product not available for purchase
Description
This book is for students preparing to become certified for the 70-443 and 70-450 Microsoft SQL Server 2005/2008 Database Design and Optimization, Database Administration exam.  The Microsoft Official Academic Course (MOAC) lessons correlate and are mapped to the Microsoft Certified Information Technology Professional (MCITP) 70-443 and 70-450 certification exam.  This text covers installing and configuring  the Microsoft SQL Server, managing and maintaining databases or multidimensional databases, user accounts, database availability, recovery, and reporting.   This book also guides you through designing and implementation of security and server automation.    The MOAC IT Professional series is the Official from Microsoft, turn-key Workforce training program that leads to professional certification and was authored for college instructors and college students. 


MOAC  gets instructors ready to teach and students ready for work by delivering essential resources in 5 key areas:  Instructor readiness, student software, student assessment, instruction resources, and learning validation.   With the Microsoft Official Academic course program, you are getting instructional support from Microsoft; materials that are accurate and make course delivery easy. 
Lesson 1: Designing the Hardware and Software Infrastructure
Lesson 2: Designing Physical Storage
Lesson 3: Designing a Consolidation Strategy
Lesson 4: Analyzing and Designing Security
Lesson 5: Designing Windows Server-Level Security
Lesson 6: Designing SQL Server Service-Level and Database-Level Security
Lesson 7: Designing SQL Server Object-Level Security 
Lesson 8: Designing a Physical Database
Lesson 9: Creating Database Conventions and Standards
Lesson 10: Designing a SQL Server Solution for High Availability
Lesson 11: Designing a Data Recovery Solution for a Database       
Lesson 12: Designing a Data-Archiving Solution
Task based approach to learning software uses, features, and commands
Microsoft Updates – Technology and curriculum seminars delivered through the Wiley Faculty Network
Free DreamSpark Premium license for the department available upon adoption
Engaging point-of-use pedagogy to aid the reader located throughout each chapter: The Bottom Line tells students why the topic is relevant; Take Note provides students with helpful hints; Another Way shows students alternate ways to accomplish tasks; X Ref refers students to other areas of the text where the topic is also discussed.