Exam 70-562: Microsoft .NET Framework 3.5, ASP.NET Application Development, Package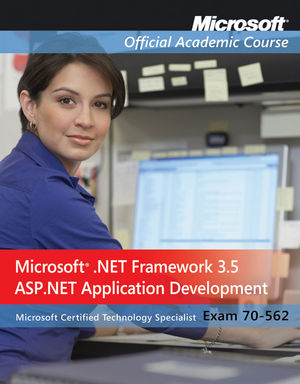 Exam 70-562: Microsoft .NET Framework 3.5, ASP.NET Application Development, Package
ISBN: 978-0-470-55139-4
Apr 2010
624 pages
Description
This book is for students preparing to become certified for the 70-562, Microsoft .NET Framework 3.5, ASP.NET Application Development exam.  The Microsoft Official Academic Course (MOAC) lessons correlate and are mapped to this Microsoft Certified Professional Developer (MCPD) 70-562 certification exam.  This book offers students hands-on instruction with, and professional certification on, the Visual Studio suite of development tools, the Windows .NET Framework component, and ASP.NET technology. 

This book guides students through mastery of:
Configuring and deploying web applications

Consuming and creating server controls

Working with data and services

Troubleshooting and debugging web applications

Working with ASP.NET AJAX and client-side scripting

Targeting mobile devices

Programming web applications
The MOAC IT Professional series is the Official from Microsoft, turn-key Workforce training program that leads to professional certification and was authored for college instructors and college students. 
MOAC gets instructors ready to teach and students ready for work by delivering essential resources in 5 key areas:  Instructor readiness, student software, student assessment, instruction resources, and learning validation.   With the Microsoft Official Academic course program, you are getting instructional support from Microsoft; materials that are accurate and make course delivery easy. 

Chapter  1: Introducing ASP.NET 3.5
Chapter  2: Creating and Configuring Server Controls
Chapter 3: Working with User Controls and Web Parts
Chapter  4: Manipulating Data Using ADO.NET
Chapter  5: Using XML and LINQ
Chapter  6: Working with ASP.NET AJAX
Chapter  7: Programming the Web Application
Chapter  8: Implementing Globalization, Personalization, and Accessibility
Chapter  9: Enhancing Security and Performance of the Web Application
Chapter  10: Working with Services, Windows Communication Foundation, and ASP.NET Extensions
Chapter  11: Working with Mobile Applications
Chapter  12: Troubleshooting and Debugging Web Applications
Chapter  13: Deploying and Publishing Web Applications
Appendix A Introducing Object-oriented Programming