Exam 70-564: Designing and Developing ASP.NET Applications Using the Microsoft .NET Framework 3.5, Package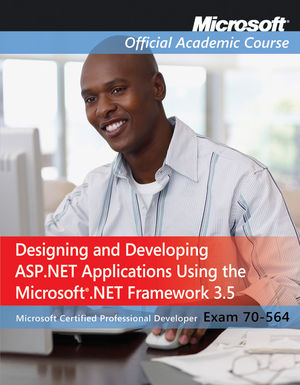 Exam 70-564: Designing and Developing ASP.NET Applications Using the Microsoft .NET Framework 3.5, Package
ISBN: 978-0-470-58383-8
Oct 2010
648 pages
Description
This book is for students and professionals aspiring  to become Microsoft developers by preparing for the 70-564, Designing and Developing ASP.NET Applications using the Microsoft .NET Framework 3.5certification exam.   The Microsoft Official Academic Course (MOAC) lessons correlate and are mapped to the Microsoft Certified  Technology Specialist/Microsoft Certified Information Technology Professional (MCTS/MCITP) and Microsoft Certified Professional Developer (MCPD) 70-564 certfication exam.  The MOAC IT Professional series is the Official from Microsoft, turn-key Workforce training program that leads to professional certification and was authored for college instructors and college students. 

Students benefit from hands-on instruction with, and professional certification on, the Visual Studio suite of development tools, the Windows .NET Framework component, and ASP.NET technology. The 70-564 exam, is the one Professional-level exam required for the MCPD certification focused on the ASP.NET track for developing web-based applications.   

The book covers:
Designing and implementing controls
Designing the presentation and layout of an application
Accessing data and services
Establishing ASP.NET solution structure
Leveraging and extending ASP.NET architecture
Applying security principles
This text offers the pedagogy and support provided by the MOAC Ready To Teach, Ready To Work program. MOAC .NET 70-564 provides the resources that instructors and students need to deploy an excellent Microsoft course. This .NET 70-564 textbook,  complete with lab manual, also offers the developer software via the MSDN AA program.  As with all MOAC titles, MOAC .NET 70-564 will contain coverage of all certification exam objectives.