Exam 70-622: Supporting and Troubleshooting Applications on a Windows Vista Client for Enterprise Support Technicians with Lab Manual Set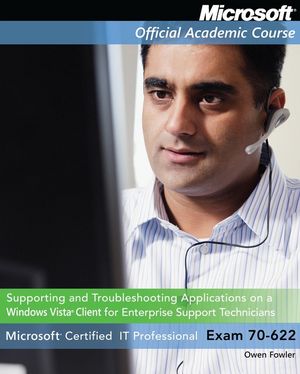 Exam 70-622: Supporting and Troubleshooting Applications on a Windows Vista Client for Enterprise Support Technicians with Lab Manual Set
ISBN: 978-0-470-87495-0
Mar 2010
636 pages
Product not available for purchase
Description
Learn to install, support, and troubleshoot the Windows Vista operating system
The latest publication in the Microsoft Official Academic Course series for IT Professionals, this course covers the Windows Vista client mapping to the new Microsoft Certified IT Professional examination 70-622 for Enterprise Support Technicians. A offers a comprehensive program consisting of a textbook, lab manual, and software. The course provides everything you need to build the knowledge and skills necessary to install, support, and troubleshoot the Windows Vista operating system.
Unit 1: Deploying Windows Vista
Lesson 1: Preparing for deployment
Selecting a deployment method
Network deployment
Offline media
USB
DVD
Preparing a system for Vista deployment
system requirements
Accounting for User profile and user data requirements
Verifying the backup
Verifying that roaming profiles and redirected folders are backed-up
Backing-up the user state by using USMT
Lesson 2: Deploy using an image
Over a network
Using offline Media
USB
DVD
Lesson 3: Perform post installation tasks
Restore User State
Roaming user profiles and folder redirection
Restore user state with USMT
Verifying System Integrity
Installing  and configuring device drivers
Configuring display devices.
Lesson 4: Troubleshooting Deployment Issues
Resolve application compatibility issues
Resolve device driver issues
Group policy versus local policy
Troubleshoot Roaming User Profiles and Folder Redirection Issues
Paths
Permissions
Unit 2: Managing Windows Vista Security
Lesson 5: Internet Explorer 7 Security
Configuring and Troubleshooting ActiveX Opt-In and ActiveX Installer service
Troubleshoot policy setting issues
Troubleshoot protected mode issues
Troubleshoot Certificate issues
Lesson 6: Troubleshoot security policy issues
Software Restriction Policies (SRPs)
How  SRPs work
SRP rules
Hash rules
Certificate rules
Path Rules
Network Zone Rules
Rules Precedence
Modifying SRPs
Using the Group Policy Management Console
Using the Group Policy Object Editor
Changing the Default Rule
Setting Enforcement Options
Defining Designated File Types
Modifying Hash Rules
Modifying Certificate Rules
Modifying Path Rules
Modifying Network Zone Rules
Troubleshooting SRPs
Scenarios
 Security Configuration tools
Security Configuration and Analysis Tool
Resultant Set of Policy Tool
Event View Tool
Lesson 7: Windows Vista Firewall, Defender, and Security Updates
Troubleshooting Windows Firewall
Configuring Exceptions
Troubleshooting Windows Defender
Applying Security Patches and Updates
Lesson 8: Troubleshoot Access, Authentication, and User Account Control Issues
Troubleshooting access to resources:
Encryption
EFS
Bit Locker
Auditing Access Requests
Troubleshoot Access Denied messages
Troubleshooting Authentication Issues
Configuring User names and Passwords
Certificates
Smart Cards
Public Keys
Graphical Identification and Authentication (GINA)
Configure and Troubleshoot User Account Control
Configure Credential Prompts.
Troubleshoot application Issues
Resolve UAC virtualization issues
Administrator vs. Standard User
Policy Settings
Unit 3: Managing and Maintaining Systems that Run Windows Vista
Lesson 9: Troubleshoot Policy Settings
 New Settings in Windows Vista
Local vs. Group Policy
Lesson 10: Configuring the Task Scheduler and Event Forwarding
H1: Task Scheduler
Event Forwarding
Responding to forwarded Events
Lesson 11: Applying and Troubleshooting Updates and performance issues
Windows Update Agent
Restart Manager
Establish Performance baselines
Windows Diagnostic Infrastructure
Unit 4: Configuring and Troubleshooting Networking
Lesson 12: Network Protocols, DNS, and DHCP
IPv6
IPv4
Domain Name System
Dynamic Host Control Protocol
Lesson 13: Troubleshoot Access Issues
Remote Access
VPN Connections
Remote Desktop
Remote Assistance
Network Resource Access
Files and Folders
Printers
Configure Network Discovery and Sharing
Lesson 14: Troubleshooting Connectivity
Using the Network Connection Diagnostics Tool
Wireless Connectivity
WPA
WEP
Smart Cards
Lesson 15: Network Security
Troubleshoot network access protection issues
IPSec
Windows Firewall
Troubleshoot policy settings
Troubleshoot public vs. private connections