Exam 70-680: Windows 7 Configuration with Lab Manual Set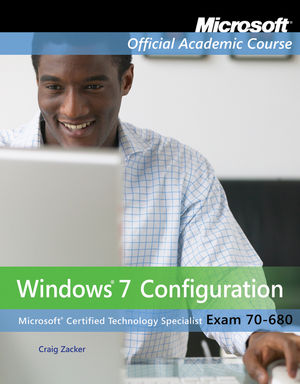 Exam 70-680: Windows 7 Configuration with Lab Manual Set
Description
This book is for users preparing to become certified for the 70-680 Windows 7 Configuration exam.  The Microsoft Official Academic Course (MOAC) lessons correlate and are mapped to the Microsoft Certified Technology Specialist (MCTS) 70-680 certification exam.  This book includes installing, deployment, and upgrade to Windows 7.   The text also covers new Windows 7 features such as BranchCache and HomeGroup networking. Additionally, you will master configuration pre-installation and post-installation system settings, Windows security features, network connectivity applications included with Windows 7, and mobile computing.   The MOAC IT Professional series is the Official from Microsoft, turn-key Workforce training program that leads to professional certification. 


With the Microsoft Official Academic course program, you are getting instructional support from Microsoft; materials that are current, accurate, and technologically innovative.
We provide the complete Ready to Teach, Ready to Learn program that includes instructor technical readiness, student software, student assessment, classroom tools, and learning validation.
70-680 will map to the MCTS certification exam objectives, providing focus on the job skills that students need to learn for the workplace.