Exam 77-602: Microsoft Office Excel 2007, Updated First Edition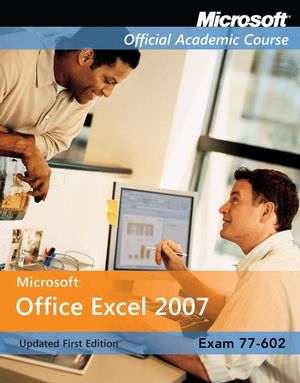 Exam 77-602: Microsoft Office Excel 2007, Updated First Edition
ISBN: 978-0-470-39568-4
Aug 2008
336 pages
Product not available for purchase
Description
The Microsoft Official Academic Course Program are the official products for Microsoft Programs in higher education. These learning products are created especially for the academic market and combine the business world focus and market research of Microsoft with 200 years of successful higher education publishing from Wiley.
The program is based upon the same curriculum as the Microsoft IT Certifications to build the skills students need to succeed at work and the preparation they need to validate those skills and get the jobs they seek.
All the support instructors need to deliver great courses on Microsoft software is in the program. Student copies of the textbooks always include student files for completing homework assignments. Microsoft Updates will bring you the latest information on new products and curriculums and are a part of the program. The Microsoft Official Academic Course Program is a great way for instructors to get ready to teach.
Chapter 1. Excel Essentials
Chapter 2. Creating and Editing a Workbook
Chapter 3. Formatting Cells and Ranges
Chapter 4. Worksheet Formatting
Chapter 5. Managing Worksheets
Chapter 6. Working With Data
Chapter 7. Using Basic Formulas and Functions
Chapter 8. Using More Advanced Formulas
Chapter 9. Creating Charts from Your Data
Chapter 10. Adding Pictures and Shapes to a Worksheet
Chapter 11. Securing and Sharing Documents
180 day trial version of Microsoft Office Professional Edition 2007 packaged with corresponding textbook in select markets
Task based approach to learning software uses, features, and commands
Microsoft Updates – Technology and curriculum seminars delivered through the Wiley Faculty Network
Microsoft Certified Application Specialist mapping throughout the text The certification exam objectives are introduced and summarized in each lesson, and they are called out at the point of introduction throughout the lesson
Three levels of assessment at the end of each chapter build student confidence from competence to proficiency to mastery
A wealth of authentic business scenarios are introduced and used in each lesson
Early introduction of hands on activities in each lesson