Exam 77-881 Microsoft Word 2010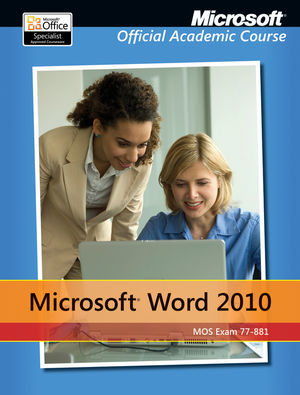 Exam 77-881 Microsoft Word 2010
ISBN: 978-1-118-10126-1
Sep 2011
432 pages
Product not available for purchase
Description
This MOAC Microsoft Word 2010 77-881 text best prepares students for the Microsoft Office Specialist exam. The program is based upon the same curriculum as the Microsoft Office Specialist Exam to build the skills students need to succeed at work and the preparation they need to validate those skills and get the jobs they seek.
Lesson 1: Getting Started with Word
Lesson 2: Manipulating a Document
Lesson 3: Character Formatting
Lesson 4: Paragraph Formatting
Lesson 5: Managing Text Flow
Lesson 6: Creating Table
Lesson 7: Working with Themes, Quick Parts, Page Backgrounds, and Headers and Footers
Lesson 8: Illustrations and Graphics
Lesson 9: Proofreading
Lesson 10: Applying Hyperlinks and References
Lesson 11: Performing Mail Merges
Lesson 12: Working with Outlines, Master and Subdocuments
Lesson 13: Managing, Protecting and Sharing Documents
Lesson 14: Advanced Options
Now in full-color for enhanced learning!
Instructors: Save hours grading Office documents with OfficeGrader for automated grading of spreadsheets
Page count increased by 25-30% - including the new Backstage view!
Free DreamSpark Premium license for the department available upon adoption
Task based approach to learning software uses, features, and commands
Maps to 100% of the Microsoft Office Specialist (MOS) exam objectives