Exam 77-883 Microsoft PowerPoint 2010, with Microsoft Office 2010 Evaluation Software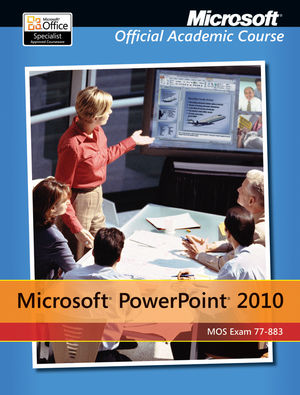 Exam 77-883 Microsoft PowerPoint 2010, with Microsoft Office 2010 Evaluation Software
ISBN: 978-1-118-21498-5
Nov 2011
432 pages
Product not available for purchase
Description
The Microsoft Official Academic Courseware (MOAC) Office 2010 Series is the only Official Academic Course program.  Microsoft Office PowerPoint 2010 is built from the ground-up around the MOS® certification objectives, making it a great way to learn all the workforce-oriented tasks required for certification. The Test Bank now offers greater flexibility and provides more than 75 questions and 3 projects per lesson, as well as automated grading via OfficeGrader. Furthermore, the latest edition's use of color in screen captures allows users to follow on screen much easier, as screen captures will look the exact same as the application. Additional projects throughout the book help users comprehend how a task is applied on the job. OfficeGrader also helps instructors offer immediate feedback on all homework, assignments, and projects and additional animated tutorials on key Office tasks provides additional help on difficult topics.
LESSON 1: POWERPOINT ESSENTIALS 1
LESSON 2: PRESENTATION BASICS 35
LESSON 3: WORKING WITH TEXT 73
LESSON 4: DESIGNING A PRESENTATION 124
CIRCLING BACK 1 156
LESSON 5: ADDING TABLES TO SLIDES 159
LESSON 6: USING CHARTS IN A PRESENTATION 190
LESSON 7: CREATING SMARTART GRAPHICS 217
LESSON 8: ADDING GRAPHICS TO A PRESENTATION 242
LESSON 9: USING ANIMATION AND MULTIMEDIA 284
CIRCLING BACK 2 310
LESSON 10: SECURING AND SHARING A PRESENTATION 315
LESSON 11: DELIVERING A PRESENTATION 337
CIRCLING BACK 3 372
APPENDIX A 375
APPENDIX B 382
GLOSSARY 383
CREDITS 386
INDEX 387
Now in full-color for enhanced learning!
Instructors: Save hours grading Office documents with OfficeGrader for automated grading of presentations
Page count increased by 25-30% - including hot topics such as editing images and animations from within Power-Point.
180 day trial version of Microsoft Office Professional 2010 packaged with corresponding textbook in select markets
Task based approach to learning software uses, features, and commands
Maps to 100% of the Microsoft Office Specialist (MOS) exam objectives