Exam 77-885 Microsoft Access 2010 with Microsoft Office 2010 Evaluation Software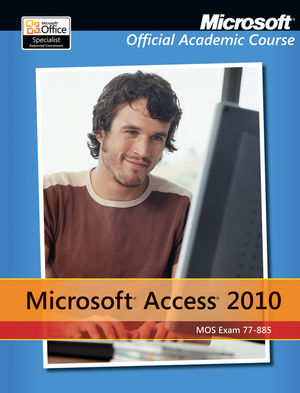 Exam 77-885 Microsoft Access 2010 with Microsoft Office 2010 Evaluation Software
ISBN: 978-1-118-21504-3
Nov 2011
464 pages
Description
This MOAC Microsoft Access 2010 77-885 text best prepares students for the Microsoft Office Specialist exam. The program is based upon the same curriculum as the Microsoft Office Specialist Exam to build the skills students need to succeed at work and the preparation they need to validate those skills and get the jobs they seek.
Lesson 1: Database Essentials
Lesson 2: Create Database Tables
Lesson 3: Work with Tables/Database Records
Lesson 4: Modify Tables and Fields
Lesson 5: Create Forms
Lesson 6: Create Reports
Lesson 7: Use Controls in Reports and Forms
Lesson 8: Create and Modify Queries
Lesson 9: Advanced Tables
Lesson 10: Creating and Formatting Advanced Forms
Lesson 11: Creating and Formatting Advanced Reports
Lesson 12: Advanced Queries
Lesson 13: Display and Share Data
Lesson 14: Import and Export Data
Lesson 15: Database Tools
Now in full-color for enhanced learning!
Instructors: Save hours grading Office documents with OfficeGrader for automated grading of spreadsheets
Page count increased by 25-30% - reflecting popular new features such as the Backstage View.
180 day trial version of Microsoft Office Professional 2010 packaged with corresponding textbook in select markets
Task based approach to learning software uses, features, and commands
Maps to 100% of the Microsoft Office Specialist (MOS) exam objectives