Exam 98-375 HTML5 Application Development Fundamentals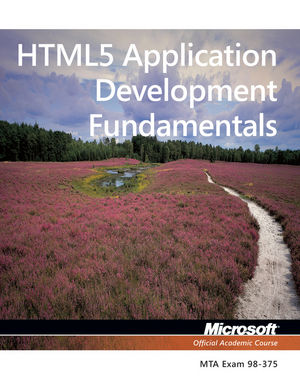 Exam 98-375 HTML5 Application Development Fundamentals
ISBN: 978-1-118-54383-2 November 2012 312 Pages
Description
The Microsoft Technology Associate certification (MTA) curriculum helps instructors teach and validate fundamental technology concepts with a foundation for students' careers as well as the confidence they need to succeed in advanced studies. Through the use of MOAC MTA titles you can help ensure your students future success in and out of the classroom. This MTA text covers the following HTML5 Application vital fundamental skills: 
• Manage the Application Life Cycle
• Build the User Interface by Using HTML5
• Format the User Interface by Using CSS
• Code by Using JavaScript


Click here to learn more about the Microsoft Technology Associate (MTA), a new and innovative certification track designed to provide a pathway for future success in technology courses and careers.
Lesson 1: Managing the Application Life Cycle
Lesson 2: Building the User Interface by Using HTML5: Text, Graphics, and Media
Lesson 3: Building the User Interface by Using HTML5: Organization, Input, and Validation
Lesson 4: Understanding CSS Essentials: Content Flow, Positioning, Styling
Lesson 5: Understanding CSS Essentials: Layouts
Lesson 6: Managing Text Flow by Using CSS
Lesson 7: Managing the Graphical Interface by Using CSS
Lesson 8: Understanding JavaScript and Coding Essentials
Lesson 9: Creating Animations, Working with Graphics, and Accessing Data
Lesson 10: JavaScript Coding for the Touch Interface, Device and Operating System Resources, and More
Covers all aspects of HTML5 - the new standard used on computers and mobile devices. Covers programming for multiple devices, including insight into developing for different web browsers.
Designed for classroom use; perfect for adding HTML web app development to an existing programming course.
Covers everything required to earn the Microsoft Technology Associate certification.