Examination of the Newborn: An Evidence Based Guide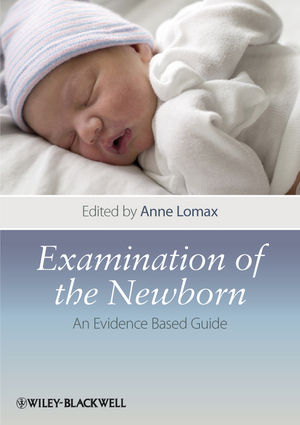 Examination of the Newborn: An Evidence Based Guide
ISBN: 978-1-444-34192-8 June 2011 Wiley-Blackwell 296 Pages
Description
Examination of the Newborn: An Evidence Based Guide is a practical and comprehensive guide for practitioners to enable them to undertake physical examination of neonates safely and competently. Incorporating the current UK Screening Committee NIPE Standards and Competencies, this book brings into focus what 'good practice' should look like against current national standards.

Avaluable resource for midwives, advanced neonatal nurse practitioners, and health visitors, as well as all other health professionals involved in the examination of the newborn, this text covers:
Neonatal examination and history taking
Development of the heart and lungs and transition to extrauterine life.
Cardiovascular and respiratory assessment of the baby
Assessment of the neonatal skin and jaundice
Examination of the eyes head and neck
Examination of the abdomen and genitalia
Abnormalities of the lower extremities including developmental dysplasia of the hip
The dysmorphic infant and common congenital abnormalities
Behavioural issues
Professional issues in practice
Safeguarding Children
Examination of the Newborn provides essential reading for all health care professionals who are continually striving to update their knowledge and contribute to the standardisation of care on a national scale.
Contributors.
Preface.
Acknowledgements.
1 The Newborn and Infant Physical Examination Standards and Competencies (Anne Lomax).
2 History Taking and the Newborn Examination: An Evolving Perspective (Claire Evans).
3 Development of the Heart and Lungs and Transition to Extrauterine Life (Christopher D. Bedford and Anne Lomax).
4 Cardiovascular and Respiratory Assessment of the Baby (Christopher D. Bedford).
5 The Neonatal Skin: Examination of the Jaundiced Newborn and Gestational Age Assessment (Morris Gordon and Anne Lomax).
6 Examination of the Head, Neck and Eyes (Carmel Noonan, Fiona J. Rowe and Anne Lomax).
7 Examination of the Newborn Abdomen and Genitalia (Morris Gordon).
8 Developmental Dysplasia of the Hip (Robin W. Paton).
9 Abnormalities of the Foot (Naomi Davis).
10 Chromosomal and Genetic Problems: Giving Feedback to Parents (Delyth Webb and Anne Lomax).
11 Newborn Behavioural Aspects(Jeanette Appleton).
12 Examination of the Newborn: Professional Issues in Practice (Norma Fryer and Claire Evans).
13 Examining the Neonate in the Hospital and Community: Child Protection Issues.
Catherine Quarrell.
Appendix 1: Useful Website Addresses.
Appendix 2: NIPE Information Leaflet for Parents.
Appendix 3: Skills for Health.
Glossary of Terms.
Index.
"This is an excellent resource that would not be out of place on the shelf of any neonatal or midwifery unit.  It is thoroughly enjoyable."  (Nursing Children and Young People, 1 September 2012)
"The approach of clearly describing the development processes of the Heart and Lungs and Transition to Extrauterine Life followed by the Cardiovascular and Respiratory Assessment is excellent and really enhances knowledge and understanding ... The book is very well illustrated with tables, graphs, photographs and competencies." (Nursing Times.net, 12 December 2011)
"Ideal for any student or qualified midwife/nurse irrespective of branch interested in working in the neonatal field." 3rd year child nursing student, University of Salford
"I like this book. I like the appearance and it is a good size that doesn't put you off by being too wordy and medical.  It uses clear professional language that is easy to follow and understand and information is easy to find if you just want to dip in and out. There are helpful diagrams and images used to support the text and references are current and relevant." 3rd year midwife student, Keele University