Excel 2002 for Dummies Quick Reference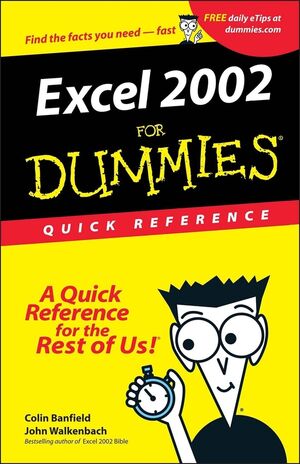 Excel 2002 for Dummies Quick Reference
ISBN: 978-0-764-50829-5 June 2001 240 Pages
Description
This Quick Reference will quickly get you up to speed with Excel's new features, whether you're a novice user or an expert. You'll master how to easily publish interactive Web pages that include spreadsheets and tables. You'll learn how to use new Smart Tags to access real-time data from the Web for your Excel documents. You will be able to use Excel's latest speech recognition capabilities to "talk to your spreadsheets," and much, much more!
The Big Picture: Microsoft Excel 2002.

Part I: Using Workbook Files.

Part II: Working with Worksheets.

Part III: Entering and Editing Worksheet Data.

Part IV: Using Formulas and Functions.

Part V: Creating and Using Names.

Part VI: Auditing Your Work.

Part VII: Formatting Your Data.

Part VIII: Printing Your Work.

Part IX: Charting Your Data.

Part X: Linking and Consolidating Worksheets.

Part XI: Working with Lists and External Data.

Part XII: Goal Seeking and What-If Analysis.

Part XIII: Analyzing Data with PivotTables.

Glossary: Tech Talk.

Index.