Excel 97 Bible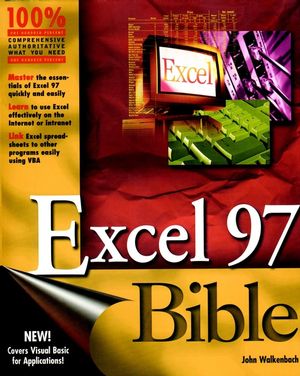 Excel 97 Bible
ISBN: 978-0-764-53036-4
Jan 1997
960 pages
Product not available for purchase
Description
Excel 97 has finally arrived, putting in your hands more and better features than ever before. Excel 97 Bible gets you up to speed with all of them quickly -- even if you've never used Excel before. With Excel guru John Walkenbach to guide you, you'll get the low-down on everything from enhanced what-if analysis tools to the easy-to-use Internet Assistant, which turns your spreadsheet into a Web page that others can view over the Internet or your organization's intranet. Comprehensive and authoritative, Excel 97 Bible is the indispensable, all-in-one reference you need to unleash the power of the world's most popular spreadsheet application.
Introduction.

PART I: GETTING STARTED.

Chapter 1: A Bit of Background.

Chapter 2: What's New in Excel 97?

Chapter 3: Getting Acquainted with Excel.

PART II: INTRODUCTORY CONCEPTS.

Chapter 4: Navigating Through Excel.

Chapter 5: Working with Files and Workbooks.

Chapter 6: Entering and Editing Worksheet Data.

Chapter7: Essentials Spreadsheets Operations.

Chapter 8: Working with Cells and Ranges.

Chapter 9: Creating and Using Formulas.

Chapter 10: Using Worksheet Function.

Chapter 11: Worksheet Formatting.

Chapter 12: Printing Your Work.

Chapter 13: Chart-Making Basics.

Chapter 14: Enhancing Your Work with Pictures and Drawings.

Chapter 15: Putting It All Together.

PART III: ADVANCED FEATURES.

Chapter 16: Advanced Charting.

Chapter 17: Creating Maps with Microsoft Map.

Chapter 18: Creating and Using Worksheet Outlines.

Chapter 19: Linking and Consolidating Worksheets.

Chapter 20: Creating and Using Array Formulas.

Chapter 21: Using Excel in a Workgroup.

PART IV: ANALYZING DATA.

Chapter 22: Importing Data from Other Sources.

Chapter 23: Working with Lists.

Chapter 24: Using External Databas Files.

Chapter 25: Analyzing Data with Pivot Tables.

Chapter 26: Performing Spreadsheet What-If Analysis.

Chapter 27: Analyzing Data Using Goal Seeking and Solver.

Chapter 28: Analyzing Data with the Analysis ToolPak.

Chapter 29: Sharing Data with Other Applications.

Chapter 30: Excel and the Internet.

Chapter 31: Making Your Worksheets Error-Free.

Chapter 32: Fun Stuff.

PART VI: CUSTOMIZING EXCEL.

Chapter 33: Customizing Toolbars and Menus.

Chapter 34: Using and Creating Templates.

Chapter 35: Using Visual Basic for Applications (VBA).

Chapter 36: Creating Custom Worksheet Functions.

Chapter 37: Creating Custom Dialog Boxes.

Chapter 38: Using Dialog Box Controls in Your Worksheet.

Chapter 39: Creating User-Oriented Applications.

Chapter 40: Creating Custome Excel Add-Ins.

PART VII: APPENDIXES.

Appendix A: Using Online Help: A Primer.

Appendix B: Worksheet Function Reference.

Appendix C: Excel's Shortcut Keys.

Appendix D: What's at the Web Site.

Index.
Bonus Content
Bonus Content
The files on the download menu accompany various chapters in the book (see Appendix D, page 859).
To reduce download times, the sample files are compressed into self-expanding (EXE) files. After downloading a file, double-click its icon to expand the files. You can also download the files all at once, as one large ZIP archive.