Excel Charts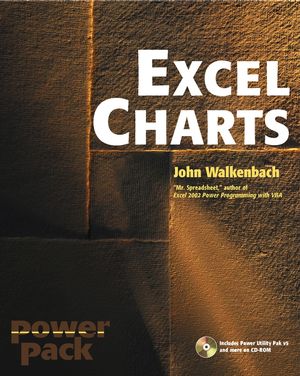 Excel Charts
ISBN: 978-0-764-51764-8
Nov 2002
552 pages
Product not available for purchase
Description
* One of the world's best-known Excel experts shows how to master the charting features in Excel 2000 and 2002 to create compelling graphic representations of data
* Covers basic and advanced features, focusing on the new charting featuresprovided in version 2002
* Explains how to select charts for different categories of data, modify data in a chart, deal with missing data, format charts, customize shapes, and give charts a professional look
Acknowledgments.

Introduction.

Part I: Chart Basics.

Chapter 1: Introducing Excel Charts.

Chapter 2: Understanding Chart Types.

Chapter 3: Working with Chart Series.

Chapter 4: Formatting and Customizing Charts.

Chapter 5: Working with Trendlines and Error Bars.

Chapter 6: Working with AutoShapes and Other Graphics.

Part II: Mastering Charts.

Chapter 7: Creating Interactive Charts.

Chapter 8: Charting Techniques and Tricks.

Chapter 9: Using Pivot Charts.

Chapter 10: Using Excel Charts in Other Applications.

Chapter 11: Avoiding Common Chart-Making Mistakes.

Chapter 12: Just for Fun.

Part III: Using VBA with Charts.

Chapter 13: Introducing VBA.

Chapter 14: VBA Programming Concepts.

Chapter 15: Understanding Objects, Collections, Properties, and Methods.

Chapter 16: Using VBA with Charts: Examples.

Appendix: What's on the CD-ROM.

Index.

End-User License Agreement.
"...a unique, accessible book that conveys a lot of powerful thoughts which can be turned into a great success through careful application..." (M2 Best Books, 26 February 2003)