Excel Data Analysis For Dummies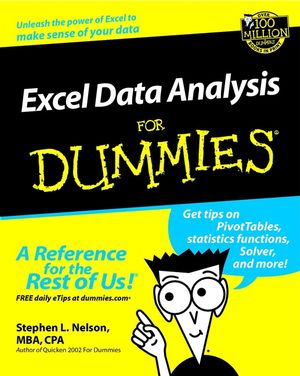 Excel Data Analysis For Dummies
ISBN: 978-0-764-51661-0
Aug 2002
384 pages
Product not available for purchase
Description
So here's a funny deal: You know how to use Excel. You know how to create simple workbooks. And how to print stuff. And you can even, with just a little bit of fiddling, create cool-looking charts. But sometimes you wish that you could do more with Excel, such as how to use Excel to really gain insights into information, the data, that you work with in your job.

Using Excel for this kind of stuff is what Excel Data Analysis For Dummies is all about. This is a book that assumes that you want to use Excel to learn new stuff, discover new secrets, and gain new insights into the information you're already working with in Excel.

Ready to take Excel to the next level? This plain-English guide covers all of these concepts, and more, to ensure that you're using Excel to its fullest capacity:
Harnessing information in lists
Querying external databases and Web pages tables
Cleaning data with text functions
Building and working with PivotTables
Customizing PivotCharts
Using the statistics functions
Understanding Optimization Modeling
If all this talk of statistics and advanced tools makes you light-headed, don't worry. Excel Data Analysis For Dummies distills the most important fundamentals into everyday language. You'll find just enough information to help you get your work done – without leaving you gasping for air in a sea of technobabble. It'd be a real shame if you didn't at least know what bells and whistles Excel has to offer and the basic steps that you need to use them.
Introduction.
Part I: Where's the Beef?
Chapter 1: Introducing Excel Lists.
Chapter 2: Grabbing Data from External Sources.
Chapter 3: Scrub-a-Dub-Dub: Cleaning Data.
Part II: PivotTables and PivotCharts.
Chapter 4: Working with PivotTables.
Chapter 5: Building PivotTable Formulas.
Chapter 6: Working with PivotCharts.
Chapter 7: Customizing PivotCharts.
Part III: Advanced Tools.
Chapter 8: Using the Database Functions.
Chapter 9: Using the Statistics Functions.
Chapter 10: Descriptive Statistics.
Chapter 11: Inferential Statistics.
Chapter 12: Optimization Modeling with Solver.
Part IV: The Part of Tens.
Chapter 13: Almost Ten Things You Ought to Know about Statistics.
Chapter 14: Almost Ten Tips for Presenting List Results and Analyzing Data.
Chapter 15: Ten Tips for Visually Analyzing and Presenting Data.
Part V: Appendix.
Appendix: Glossary of Data Analysis and Excel Terms.
Index.
Sample set of Excel workbooks
The sample set of Excel workbooks enable you to practice the techniques and functions covered in the book.

If you have trouble opening ZIP formatted files, visit http://www.Winzip.com to download a trial version of Winzip.

Download