Excellence in Health Care Management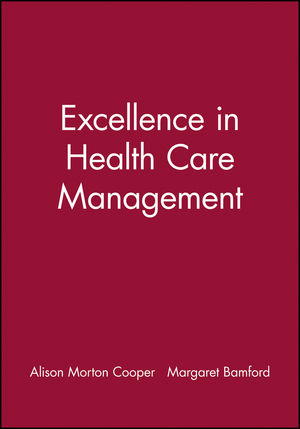 Excellence in Health Care Management
ISBN: 978-0-632-04032-2 January 1997 Wiley-Blackwell 256 Pages
Description
This book is a real-world critique of the ideologies and theories of health care management as applied to today's practice. Central issues such as people management and workplace education are approached from contemporary, theoretical and practical perspectives. Concepts of training, quality, finance, information and transition management are considered in detail with a strong emphasis on inter-professional working. Excellence in Health Care Management will appeal to students studying general management courses as well as human resource managers, health professionals, and management trainees.
Table of contents
List of Contributors; Foreword; Preface; Section I - Excellence in Human Resources Management: Organisational change - implications for HRM; Health careers in the 21st century; Dimensions of Orgnisational Health; Section II - Key Concepts in Quality, Fianance and Information Management: Quality management in health care, Key conepts in finance and information management; Section III - Education and Training for Health Care: A critique of alternative pathways in professional and vocational education; Funding issues in education and training; "Credentialling" in health care and its implications; Section IV - Managing Paradox - The Politics of Health Care The paradox of health care provision; The paradox of caring (an art or a science?); The paradox of welfare; The paradox of technological arrogance; The paradox of human communication; The paradox of public "charterism"; Index
Reviews
"The book is lucid, scholarly and particularly well referenced. It is reasonably priced and is thus essential reading to all students of health policy and management and will be found refreshing by those intending to spend their working lives in the field of health care. It should therefore be added to the collection of each NHS trust and each university library."
Journal of Advanced Nursing
"Excellence in Health care Management fills a void in the present literature on the more strategic, conceptual and thought-provoking issues around nursing and nursing ethics...A must for your NHS, MBA reading list, but also for students of power, politics and feminism. It is a must, too, for nurses who see themselves going into a career structure in the millennium."Health Service Journal
Features
* provides a comprehensive introduction to the field of health care management * considers a wide-ranging aspects of management in health care * wide appeal for students and practising managers * contributions from expert practitioners in health care management * Morton-Cooper is co-author of highly successful Mentoring and Preceptorship