Excess: Anti-consumerism in the West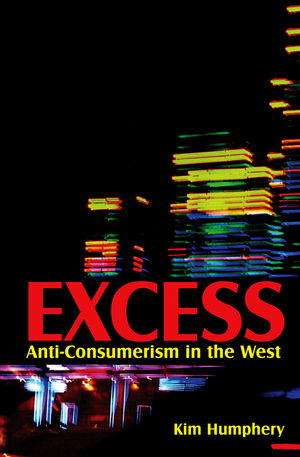 Excess: Anti-consumerism in the West
ISBN: 978-0-745-64541-4 December 2009 Polity 224 Pages
Description
Over-consumption is one of the key issues of our time, especially in the Western world. Over the past decade, in the face of historically unprecedented levels of consumer spending in the West - and the more recent impact of recession - a vigorous politics of anti-consumerism has emerged in a range of wealthy nations.
This timely and original new book provides a comprehensive overview and analysis of what has come to be called the 'new politics of consumption'; a politics embodied in movements such as culture jamming, simple living, slow food and fair trade. The book offers an examination of anti-consumerism at a time when the idea of 'consumer excess' is being re-framed by a global economic downturn, and crucially explores what this means for the future of political debate. Drawing on interviews with activists across three continents, and offering a refreshingly accessible discussion of contemporary commentary and theory, Kim Humphery sympathetically explores anti-consumerism as cultural interpretation, lifestyle change, and collective action.
Whilst analysing the positive advances of the anti-consumerist movement, Excess also challenges contemporary critical thinking on consumption, taking issue with the return to theories of mass culture in contemporary anti-consumerist polemic. Alternatively, Humphery begins to forge a politics of anti-consumerism that addresses the complexity of material acquisition and which avoids treating consumers as mere dupes in the logic of capitalism, viewing them instead as active participants in a culture which is capable of transformation.
Table of contents
Preface vii
Acknowledgements xiv
Introduction: Trouble in Consumer Paradise 1
1 The New Politics of Consumption 15
2 Anti-Consumerism in Action 49
3 Encountering Anti-Consumerism 81
4 Interpreting Material Life 110
5 Consuming Differently 153
Postscript: After the Boom, Beyond the West 178
Notes 184
Bibliography 230
Index 254
Reviews
"Highly recommended. Graduate students/faculty."
Choice
"A fascinating exploration of what anti-consumerism (as cultural interpretation, lifestyle change, and collective action) means for the future of political debate, especially in the context of the recent economic crisis."
Long Range Planning
"Written in accessible if academic prose, Humphery's book explores this question in more complex and nuanced ways than is often the case in existing theoretical and populist reactions, which naively reject consumerism outright."
Green World
"[A] sophisticated analysis of consumerism."
The Australian
"There could hardly be a more timely issue - nor a more compelling study of the historical and political implications of the excess that may well be crushing the world as we knew it."
Charles Lemert, Wesleyan University
"Excess offers an insightful view of the many dimensions of consumption reformers must address—from the waste economy to environmental degradation, and from unhappiness at too much choice to the stress of too little money. Humphery dares us to hope that we can create a better vision of the good life without giving up our pleasures."
Sharon Zukin, Brooklyn College, and author of Point of Purchase: How Shopping Changed American Culture