Exchange Traded Funds and E-Mini Stock Index Futures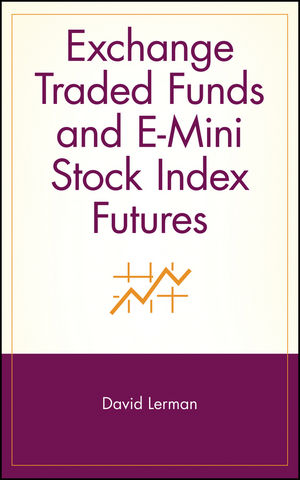 Exchange Traded Funds and E-Mini Stock Index Futures
ISBN: 978-0-471-21790-9
Jul 2002
336 pages
Description
Shows how to use both ETFs and E-Minis for high-powered results
Exchange Traded Funds (ETFs) are a remarkable new tool for trading and investing in broad market segments or narrow sectors. ETF trading volume and asset growth continue to soar at record levels. Ideal for speculating in and hedging as well as long-term investing in the broader markets, these index products work together to diversify and balance any global portfolio. Now, one of the top executives (and experts) in the industry reveals the intricacies of the products, how to use them, and what the future holds. Readers will get sample index portfolios and strategies for all market participants--ranging from the short-term trader to the long-term investor; and from the risk taker to the conservative investor.
David Lerman (Chicago, IL) is the Senior Director of Equity Index Products Marketing at the Chicago Mercantile Exchange. He has traveled around the globe on behalf of the CME, giving seminars and workshops to retail and institutional audiences, including pension funds, corporations, banks and brokers on risk management/trading using equity index futures and options.
Preface.

Acknowledgments.

PART I: FROM RANDOM WALK TO A TRILLION-DOLLAR PHENOMENON.

From Random Walk to a Trillion-Dollar Phenomenon: Why Indexing Works So Well.

The Players.

The Indexes.

PART II: EXCHANGE TRADED FUNDS.

ETFs: Beginnings, Advantages, Attributes.

Details: ETF Structures, the Creation-Redemption Process.

General Strategies Using ETFs.

ETF Highlights.

PART III: THE FASTEST-GROWING INDEX PRODUCTS: E-MINI S&P 500 AND E-MINI NASDAQ-100 FUTURES--APPLICATIONS AND CASE STUDIES.

E-Mini Stock Index Futures: The History and Basic Nomenclature.

E-mini Stock Index Futures: Contract Highlights, Trading Fundamentals, Basis, and Fair Value.

Short-Term Strategies Using E-mini Stock Index Futures and ETFs.

PART IV: ADVANCED TOPICS AND THE ROAD AHEAD.

Longer-Term Strategies: Asset Allocation with ETFs.

Risk: The Most Ignored Four-Letter Word.

ETFs Beyond the United States.

The Future of ETFs and E-mini Stock Index Futures: The Road Ahead.

Frequently Asked Question (and Answers) About ETFs and E-Mini Stock Index Futures.

Appendix 1: Electronic Trading Considerations.

Appendix 2: ETFs and Small-versus Large-Cap Cycles.

Appendix 3: Index Arbitrage and Program Trading.

Endnotes.

Glossary.

Suggested Reading.

Recommended Web Sites.

Timeline.

Answers to Quizzes.

Index.