Executive's Guide to Fair Value: Profiting from the New Valuation Rules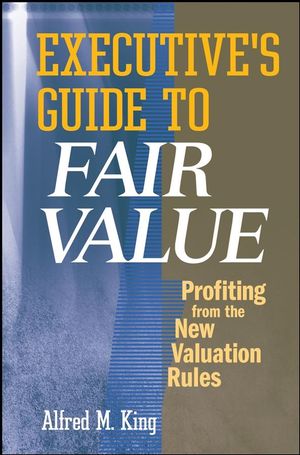 Executive's Guide to Fair Value: Profiting from the New Valuation Rules
ISBN: 978-0-470-17329-9
Jan 2008
272 pages
Description
Praise for Executive's Guide to Fair Value: Profiting from the New Valuation Rules

""The advent of fair value reporting is not your Momma's (or your Papa's) kind of accounting. If you're a financial professional above the age of twenty-five who is working in industry, read this book. From choosing a fair value specialist to the perils of 'made as instructed' valuations to purchase price allocations to impairment testing to that SEC tripwire, customer relationships, fair value expert Al King gets it right. And he does so with neither jargon nor literary anesthesia. As a former CFO myself, all I can say is WOW!""
-Warren D. Miller, CFA, ASA, CMA, CPA, Cofounder, Beckmill Research

A hands-on guide for financial executives

needing to understand the appraisal process

Executive's Guide to Fair Value: Profiting from the New Valuation Rules brings senior level executives up to speed on what fair value really means. This new book addresses a full range of issues facing auditors and executives, including litigation and the ""true"" determination of value, estimating the value of working capital, and how to estimate the value and life of intangible assets.

Complete with advice on the latest FASB rules and regulations, Executive's Guide to Fair Value: Profiting from the New Valuation Rules provides the most up-to-date and reliable information on:

The latest fair value rules and how they impact both preparers and users of financial statements

The role and responsibility of the appraisal specialist, including best practice tips for choosing and evaluating an appraiser

Testing customer relationships for impairment

A thorough knowledge of what fair value accounting is and how it can impact your corporation and its profitability

Practical applications, including incentive compensation and equity-based compensation

In basic, nontechnical language, Executive's Guide to Fair Value: Profiting from the New Valuation Rules will help all financial executives and auditors succeed in understanding the new fair value accounting rules that corporations must now follow. The result is a resource that professionals can rely on to understand the importance of valuation and the concepts that define it.
Buy Both and Save 25%!
Original Price:$178.50
Purchased together:$133.88
save $44.62
Cannot be combined with any other offers.
Chapter 1. What is Fair Value?
FASB is Pushing Fair Value.
Financial Instruments and the Legacy of Enron.
Theoretical Merits of Fair Value Accounting.
Fair Value is the New Paradigm.
How Reliable are Fair Values?
Relevance of Fair Value.
How Exact Can the Determination of Fair Value Be?
Deal Expenses.
Managing Earnings: The Potential for Manipulation.
Chapter 2. Valuation of a Business: What Is It Really Worth?
Fundamental Basis of All Values.
Comparable Assets Can Determine Fair Value.
Discounted Cash Flow- The Income Approach.
Developing Supportable Cash Flow Projections.
Earnings Before Interest Taxes Depreciation and Amortization (EBITDA).
Myth of Comparable Companies-Making Adjustments.
Definition of a Business.
Valuing a Start-Up (Early-Stage) Business.
Misuse of Valuation Reports.
Business Enterprise Valuations (BEV).
Chapter 3. Litigation and the ""True"" Determination of Value.
Valuation for Divorce Proceedings.
Appraisal Reports that are ""Made as Instructed"".
Audience for Appraisal Reports.
Buy and Sell Agreements.
Don't Use a Formula.
Periodic Valuations of Partnerships, Joint Ventures, and Closely-Held Companies.
Chapter 4. Accounting for M&A Transactions.
SFAS 141- Allocation of Purchase Price.
Fair Values Impact Future Reported Income.
Market Participants.
Choice of Life for Amortization and Depreciation.
Asset Lives.
Lives for Intangible Assets: Indefinite versus Fixed.
Minimizing Reported Income.
Goodwill.
Solvency Opinions.
Chapter 5. Due Diligence: What is the Real Value of the Target's Business?
Financial Projections.
Estimating the Value of Working Capital.
Estimating the Value of Property, Plant, and Equipment.
Estimating the Value of Liabilities.
Estimating the Value and Life of Intangible Assets.
Lives for Amortization.
Goodwill on the Target's Books.
Estimating the Value of Contingent Liabilities.
Chapter 6. Valuation of Liabilities.
The FASB's Motives for Changing SFAS 5.
Regulatory Response to the Potential for Manipulation.
Auditing of Valuation Reports.
Valuation of Contingent Payments.
Environmental Liabilities.
Chapter 7. Fair Value, Property, Plant,& Equipment, and Sarbanes-Oxley.
Required Controls over PP&E.
Benefits of a Good Property Record System.
Summary and Conclusions.
Chapter 8. Allocation of Purchase Price in a Business Combination.
Adjusted Purchase Price.
Financial Projections.
Fair Value of Working Capital.
Property, Plant, & Equipment (PP&E).
Valuation of Intangibles.
Duplicate Assets- Exit Value and Market Participants.
Chapter 9. Testing for Impairment.
How Does the Market Respond to Impairment Write-Offs?
Can We Control the Timing and Amount of Impairment Charges?
Testing Goodwill for Impairment.
Can You Control Impairment Charges?
Choice of Reporting Unit.
Trade-Off between Assigning Value to Intangibles and to Goodwill.
Summary and Conclusion.
Chapter 10. Customer Relationships.
What is a Customer Relationship?
Defining a Customer Relationship.
How to Interpret the EITF Definition of Customer Relationship.
One Major Customer.
Selling New Products or Services.
Returns on Other Assets.
Testing Customer Relationships for Impairment.
Chapter 11. Selecting and Working with an Appraisal Specialist.
Evaluating an Appraiser's Experience.
Independence and Ethics in Fair Value.
Auditors: Are They the Final Quality Check?
Experience in Your Industry versus Overall Experience.
Reducing Costs- Working with Independent Auditors and the SEC.
SEC Interaction.
Summary and Conclusions.
""….the author offers a treasure trove of information presented in a razor-sharp style. All in all, this is a splendid offering. Mr. King writes with real authority and has fashioned a book that will benefit any financial executive in understanding the scope and context of these important valuation and reporting concepts."" (Estate Planning, June 2008)