Executive's Guide to Knowledge Management: The Last Competitive Advantage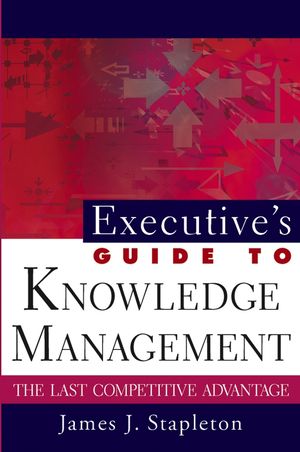 Executive's Guide to Knowledge Management: The Last Competitive Advantage
ISBN: 978-0-471-44551-7
Feb 2003
256 pages
Product not available for purchase
Description
A step-by-step guide for turning information into advantage
This book describes a ten-step method that empowers companies to transform their information into knowledge, helping managers develop and maintain a balanced knowledge plan, solve information shortfalls, and take advantage of the information at their fingertips.
Preface.

Chapter 1: Infomentality.

Your Infomentality.

Intelligence-Gathering Mentality.

Elements of the Intelligence-Gathering Mentality.

Your Intelligence-Gathering Plan.

Fear Accepted Wisdom.

The Trap of Mundane Tasks.

Conclusion.

Chapter 2: InfoGoals.

Simple Information Request.

Understand the Source Information.

Synthesize the Data.

Disseminate the Knowledge.

Act on the Knowledge.

Update the Knowledge.

What Businesses Need.

Risks.

The Ultimate Goal.

Conclusion.

Chapter 3: Building Knowledge.

Choose Your Parameters Carefully.

The Knowledge Advantage.

The 10-Step Process for Building Useful Knowledge.

Information Basics.

Conclusion.

Chapter 4: Intelligence Gathering.

Why Information Gathering Is Important to Sales.

Information Gathering as a Basic Skill.

External Information Sources.

Opinions.

Aim of the Knowledge Management Program: Getting and Keeping New Clients.

Basic Elements of Successful Information Gathering.

What Does a Buyer Look For?

Why Does a Buyer Seek a Particular Product or Service?

When Does a Buyer Make Those Purchases?

How Does a Prospective Buyer Choose Among Sources?

Where Can You Find Contact Information?

Who Should You Speak With?

Conclusion.

Chapter 5: Competitor Information.

Your Competition: Colleagues or Enemies?

Gathering Information on Your Competitors.

Sources of Competitor Information.

What You Should Know About Your Competition.

Keep a Central Database.

Conclusion.

Chapter 6: Customer Relations.

What Constitutes Good Service?

What Do Customers Want?

Communication.

Surveys.

Exit Interviews.

Entry Interviews.

Information Sources.

Customer Base.

Competing Through Knowledge.

Misinformation.

Conclusion.

Chapter 7: Referral Source Information.

The Art of Networking.

The Right Knowledge.

Successful Relations with Information Sources.

Conclusion.

Chapter 8: Infoplan.

Why We Gather Information.

Why You Must Plan.

The Planning Process.

Why Information-Gathering Plans Fail.

Conclusion.

Conclusion.

The Future of Knowledge Management.

The Last Competitive Advantage.

Where to Find Additional Information.

Appendix A: Information Associations.

Appendix B: Sources of Information and Analyses.

Index.