Executive Leadership: A Practical Guide to Managing Complexity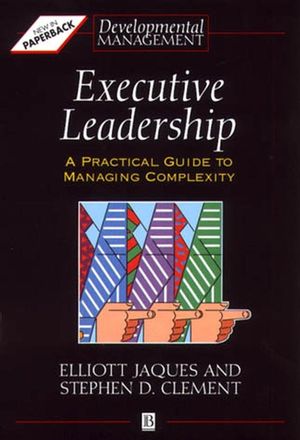 Executive Leadership: A Practical Guide to Managing Complexity
ISBN: 978-0-631-19313-5
Jun 1994, Wiley-Blackwell
352 pages
Description
Strong managerial leadership is a major factor in competitiveness and effectiveness in business. Companies must establish a managerial organization structure that puts competent managerial leaders into suitable roles. The aim of this practical text is to provide a foundation for leadership at a down-to-earth and understandable level.
Foreword: Requisite Leadership - Managing Complexity by Ronnie Lessem.
Preface.
Special Acknowledgement.
Acknowledgments.
Part I: Concepts and Principles: .
1. The Demystification of Leadership.
2. Human Nature at Work.
3. Role Complexity and Task Complexity.
4. Basic Concepts of Organizational Structure.
Part II: Requisite Practices:.
5. Task Assigning Role Relationships (TARRs).
6. Managerial Leadership.
7. Supervisory Leadership.
8. Project Teams and Expert Leadership.
9. Manager-Once-Removed (MOR) Leadership Accountability.
10. Organizational Leadership.
11. Managerial Leadership Development Program.
Outline and Summary.
Bibliography.
Index.
"This book is an enthralling read from start to finish and a marvellous addition to the Developmental Management series." Executive Development.