Exercise Balls For Dummies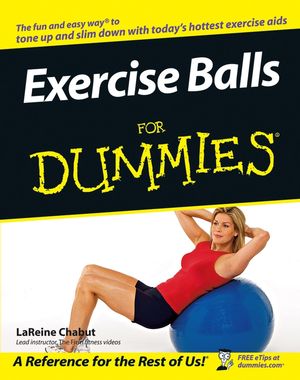 Exercise Balls For Dummies
ISBN: 978-0-764-55623-4
May 2005
382 pages
Description
If you want to shape up or lose weight, get on the ball!

It's inexpensive. It's something you can do at home. It's effective!

However, unless you have a personal trainer, using the exercise ball correctly to get maximum results can be tricky. That's where Exercise Balls For Dummies comes in. You'll discover how to turn an ordinary workout into a super workout that builds strength, increases flexibility, and sculpts a great-looking body. The book includes:
Step-by-step details on using exercise balls in your regular workout program
Tips on selecting and maintaining equipment
Illustrated exercises covering a complete muscle workout: shoulders and upper back; biceps, triceps, and forearms; chest abdominals and lower back; legs and hips: flexibility in general
Specific applications for Pilates, weight training, stretching, and aerobic exercise
Mat workout routines
Admitted couch potatoes can start at the beginning; fitness fanatics can jump right in and integrate the exercise ball into their routines. Exercise Balls For Dummies was written by LaReine Chabut, a fitness model, actress, and writer who owns a women's workout spa and stars in workout videos. Of course, she makes it look easy!
Introduction.
Part I: Rolling Exercise Balls into Your Fitness Program.
Chapter 1: Having a Ball Getting Fit.
Chapter 2: Choosing the Right Ball for You.
Chapter 3: Feeding and Caring for Your Ball.
Chapter 4: Gathering Your Gear and Getting Ready.
Part II: Workouts to Have a Ball With.
Chapter 5: Warming Up Your Body.
Chapter 6: A Swimmer's Body: Shoulders and Upper Back.
Chapter 7: Shapely, Sexy Arms.
Chapter 8: Walking Tall: Chest, Abdominals, and Lower Back.
Chapter 9: Booty Patrol: Working the Butt, Legs, and Hips.
Chapter 10: Cool It! Wrapping Up Your Workout with Easy Moves and Stretches.
Chapter 11: Total Body Workout-in-One.
Part III: Variety Is the Spice of Life: Doing Different Activities on the Ball.
Chapter 12: Core Values: Pilates on the Ball.
Chapter 13: Gaining Muscle Power: Weight Training.
Chapter 14: Easy Stretch Workout on the Ball.
Chapter 15: Cardio and Go: Aerobic Exercise with the Ball.
Chapter 16: Adding Accessories to Your Workout on the Ball.
Chapter 17: Bending Over Backward: Yoga on the Ball.
Part IV: Using Exercise Balls in Special Circumstances.
Chapter 18: Come On, Mama! Pregnancy Workout.
Chapter 19: Senior Citizens Get on the Ball.
Chapter 20: Every Kid Loves a Ball.
Part V: The Part of Tens.
Chapter 21: Ten Changes You Can Expect to See in Your Body.
Chapter 22: Ten Groups That Can Use the Ball.
Chapter 23: Ten Activities That Complement Your Ball Workout.
Chapter 24: Ten Things You Can't (Or at Least Shouldn't) Do with Your Ball.
Index.