Exercising Influence Workbook: A Self-Study Guide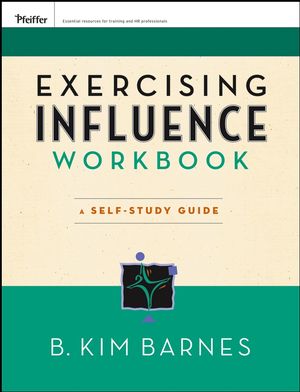 Exercising Influence Workbook: A Self-Study Guide
ISBN: 978-0-787-98465-6
Oct 2006, Pfeiffer
136 pages
Description
Based on Kim Barnes bestselling book Exercising Influence, this Self-Study Guide shows you how to reflect on your "career" as an influencer and provides you with a structure for further growth and the development of your influence skills. Once you complete this guide you will have the basics needed to build relationships that will garner positive results in and outside your sphere of work.

Step by step the Guide will help you discover how to:

·        Apply the concepts and tools to an upcoming influence opportunity

·        Clarify the information by applying each chapter's ideas to a real situation

·        Think through important influence opportunities

·        Journal personal reflections about your growth as an influencer and leader

 
Introduction.
Part I Exercising Influence.
Self-Assessment.
Interpreting Your Self-Assessment.
1 What We've Got Here Is Failure to Influence.
2 What Is Influence, and Why Do We Want to Have It?
3 A Model for Influence: Building Relationships and Getting Results.
4 Expressive Influence: Sending Ideas and Generating Energy.
5 Receptive Influence: Inviting Ideas and Stimulating Action.
6 Influencing in Action.
Part II Planning for Influence.
7 Developing an Influence Plan.
8 Establishing Influence Goals.
9 Focus on the Relationship.
10 Focus on the Context: The Individual.
11 Focus on the Context: System, Organization, Culture, Timing.
12 Focus on the Context: Yourself.
13 Focus on the Issues.
14 Choosing and Using Influence Behaviors to Achieve Your Goal.
15 Putting Your Plan to Work.
Part III Special Issues in Influence.
16 The Ethics of Influence.
17 Influencing Electronically.
18 Influencing Indirectly.
19 Applied Influence: Making Things Happen.
Resources.