Existentialism For Dummies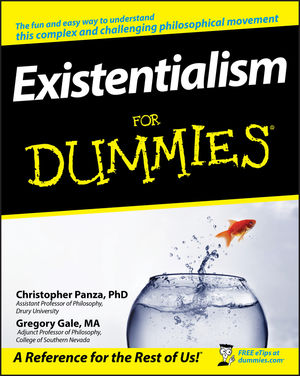 Existentialism For Dummies
ISBN: 978-0-470-43689-9 March 2009 384 Pages
Description
Have you ever wondered what the phrase "God is dead" means? You'll find out in
Existentialism For Dummies
, a handy guide to Nietzsche, Sartre, and Kierkegaard's favorite philosophy. See how existentialist ideas have influenced everything from film and literature to world events and discover whether or not existentialism is still relevant today.
You'll find an introduction to existentialism and understand how it fits into the history of philosophy. This insightful guide will expose you to existentialism's ideas about the absurdity of life and the ways that existentialism guides politics, solidarity, and respect for others. There's even a section on religious existentialism. You'll be able to reviewkey existential themes and writings. Find out how to:
Trace the influence of existentialism
Distinguish each philosopher's specific ideas
Explain what it means to say that "God is dead"
See culture through an existentialist lens
Understand the existentialist notion of time, finitude, and death
Navigate the absurdity of life
Master the art of individuality
Complete with lists of the ten greatest existential films, ten great existential aphorisms, and ten common misconceptions about existentialism, Existentialism For Dummies is your one-stop guide to a very influential school of thought.
Table of contents
Introduction.
Part I: Introducing Existentialism.
Chapter 1: What Is Existentialism?
Chapter 2: The Big Names of Existentialism.
Part II: The Fundamental Problem: God Is Dead.
Chapter 3: If God Is Dead, Is Life Meaningless?
Chapter 4: Anxiety, Dread, and Angst in an Empty World.
Part III: Living a Meaningful Life in a Meaningless World.
Chapter 5: The Challenge of Absurdity and Authenticity.
Chapter 6: Understanding Our Unique Way of Existing in the World.
Chapter 7: Not Tonight, Honey: Why We Need More Passion in Our Lives.
Chapter 8: Sar tre's Existentialism: Learning to Cope with Freedom.
Chapter 9: Finding Authenticity: Facing Death, Conscience, and Time.
Chapter 10: Kierkegaard: The Task of Being a Religious Existentialist.
Chapter 11: Niet zsche: Mastering the Art of Individuality.
Part IV: The Enduring Impact of Existentialism.
Chapter 12: Fear and Loathing in Existential Politics.
Chapter 13: Existentialism and Other Schools of Philosophical Thought.
Chapter 14: Doing Psychology the Existential Way.
Part V: Part of Tens.
Chapter 15: Ten Great Existential Movies.
Chapter 16: Ten Great Works of Existential Literature.
Index.