Experimental Electrochemistry: A Laboratory Textbook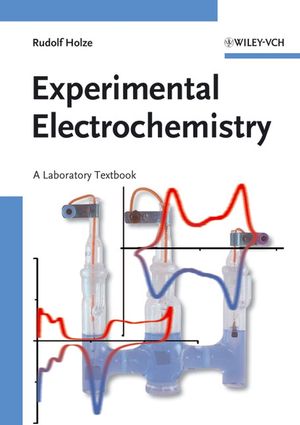 Experimental Electrochemistry: A Laboratory Textbook
ISBN: 978-3-527-31098-2
Jun 2009
260 pages
Description
The only comprehensive collection of easy-to-perform electrochemical experiments for both high school lessons and university lab courses. It illustrates the broad area of electrochemistry with respect to thematic aspects and apparatus used in the experiments. In addition, it highlights the interdisciplinary connections to related fields.
Following a brief overview, the book goes on to deal with electrochemistry at equilibrium and with flowing current, while further chapters cover analytical electrochemistry, non-traditional methods, electrochemical energy storage and conversion as well as technical electrochemistry.
Throughout, the author clearly describes every detail of the experiments and gives helpful guidance for the production of rare working materials.
Complementing textbooks on electrochemistry, this is a must for lecturers as well as for students in chemistry.
Introduction -
An Overview of Practical Electrochemistry
Electrochemistry in Equilibrium
Electrochemistry with Flowing Current
Analytical Electrochemistry
Non-Traditional Electrochemistry
Electrochemical Energy Conversion and Storage
Electrochemical Production
Appendix
List of Symbols, Acronyms and Abbreviations
Index

A comprehensive lab course detailing electrochemical procedures
Illustrates the broad area of electrochemistry with respect to thematic aspects and apparatus used in the experiments, also highlighting the interdisciplinary connections to related fields
Throughout, the author clearly describes every detail of the experiments and gives helpful guidance for the production of rare working materials