Experimental Organic Chemistry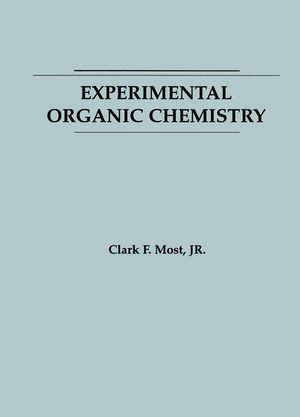 Experimental Organic Chemistry
ISBN: 978-0-471-82043-7 February 1988 608 Pages
Description
Acquaints students with all basic laboratory procedures, coordinating enough theory and technique to enable readers to fully comprehend the reactions being studied and the procedures involved. Material is organized in four sections: techniques, experiments, organic qualitative analysis, and appendixes. The first section introduces students to all common organic techniques and provides an illustrative experiment with each. A unique format helps train the research-oriented student to look for relationships that are not immediately apparent. The experiments section moves on to more complex experiments involving synthetic procedures followed by work-up and analysis requiring more than one technique. Instructions are complete and easy to follow, and a set of pre-laboratory experiments encourages students to determine goals before beginning lab work. The appendixes cover less-referred-to techniques: sublimation, density determination, and molecular weight determinations; and contaion a pronunciation guide and a compilation of chemical hazards.
Partial table of contents:

Laboratory Safety.

Basic Laboratory Equipment and Techniques.

The Laboratory Notebook.

Drying Solids, Liquids, and Gases.

Thermometers, Melting Points, and Boiling Points.

Filtration.

Recrystallization.

Extraction.

Distillation.

Simple Distillation.

Refractometry.

Ultraviolet-visible Spectroscopy.

Infrared Spectroscopy.

Nuclear Magnetic Resonance.

Mass Spectrometry.

The Chemical Literature.

Report Writing.

Process Economics.

Experiments.

Isolations, Nonbonded Interactions.

Haloalkanes.

Alkenes.

Alcohols.

Aldehydes.

Aromatics.

Famous Name Reactions.

Organic Redox.

Kinetics and Equilibria.

Acidity, Neutralization, and Saponification.

Appendixes.

Index.