Expert Fraud Investigation: A Step-by-Step Guide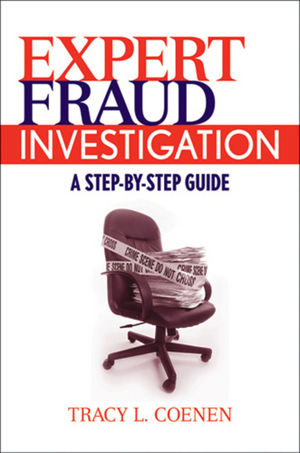 Expert Fraud Investigation: A Step-by-Step Guide
ISBN: 978-0-470-44784-0
Jan 2009
208 pages
Description
A fraud investigation is aimed at examining evidence to determine if a fraud occurred, how it happened, who was involved, and how much money was lost. Investigations occur in cases ranging from embezzlement, to falsification of financial statements, to suspicious insurance claims. Expert Fraud Investigation: A Step-by-Step Guide provides all the tools to conduct a fraud investigation, detailing when and how to investigate. This guide takes the professional from the point of opening an investigation, selecting a team, gathering data, and through the entire investigation process. Business executives, auditors, and security professionals will benefit from this book, and companies will find this a useful tool for fighting fraud within their own organizations.
Preface.
Acknowledgments.
Chapter 1: Finding Fraud.
Signs of Fraud.
Looking for Suspects.
Evaluating Fraud Tips.
Should You Investigate?
Confronting Suspects.
Skills of a Fraud Investigator.
Differences between Audits and Investigations.
Conducting a Fraud Investigation.
Notes.
Chapter 2: Beginning the Investigation.
Assessing the Engagement.
Making Recommendations.
Budgeting and Cost Control.
Fees.
Billing Practices.
Engagement Letters.
Chapter 3: Managing the Case.
Assembling the Team: Where to Start.
Assembling the Team: Company Insiders.
Assembling the Team: Key Participants.
Assembling the Team: Outside Consultants.
Importance of Credentials.
Management and Supervision of Staff.
Work Programs and Checklists.
Document Management.
Preserving Evidence.
File Maintenance.
Investigative Software.
Professional Standards.
When to Stop Investigating.
Chapter 4: Searching for Fraud.
Analytical Review.
Key Financial Ratios.
Write-offs, Adjustments, and Miscellaneous.
Manual Disbursements.
What about Financial Statement Audits?
Looking for Fraud in Little Things.
Chapter 5: Sources of Information.
Who Acquires Information.
Internal Records.
Private Records.
Public Records.
The Internet and Search Engines.
Chapter 6: Investigative Techniques.
Corporate Background Checks.
Individual Background Checks.
Searching for Friends, Family, and Associates.
Surveillance.
Digital Data Analysis.
Computer Forensics.
Interviewing Witnesses and Suspects.
Confirmation with Customers and Vendors.
Creativity and the Fraud Investigator.
Chapter 7: Investigation of Asset Misappropriation Schemes.
Cash Receipts Schemes.
Disbursement Schemes.
Noncash Schemes.
Chapter 8: Investigation of Financial Statement Fraud.
Revenue Overstatement.
Channel Stuffing.
Round-Tripping.
Asset Overstatement.
Liability and Expense Understatement.
Reserve Manipulation.
Misrepresentation or Omission of Information.
Improper Recording of Mergers and Acquisitions.
Off-Balance-Sheet Items.
Accounting Involves Judgment and Estimates.
Earnings Management.
Note.
Chapter 9: Investigation of Corruption Schemes.
Bribes.
Kickbacks
Extortion and Conflict of Interest.
Related-Party Transactions.
Money Laundering.
Foreign Corrupt Practices Act (FCPA).
Prevention and Detection.
Note.
Chapter 10: Investigation of External Fraud Schemes.
Corporate Espionage.
Investment Schemes.
Pyramid or Ponzi Schemes.
Securities Fraud.
Hidden Income or Assets.
Insurance Fraud.
Bankruptcy Fraud.
Note.
Chapter 11: Reporting and Litigation.
Stick to the Facts.
Keep it Simple.
Background Information.
Investigation Procedures.
Opinions.
Attachments.
Draft Reports.
Unfavorable Opinions.
Follow-up to the Fraud Investigator's Work.
Being an Expert Witness.
Preparing for Testimony.
Deposition Testimony.
Trial Testimony.
Note.
Chapter 12: Other Issues.
Moving Forward as a Company.
Preventing Future Frauds.
Marketing a Fraud Investigation Practice.
Competing with Other Firms.
Conducting a Global Investigation.
Professional Liability Issues.
Reducing Fraud with Investigations.
Note.
Appendix.
Index.