Expert One-on-One Visual Basic 2005 Design and Development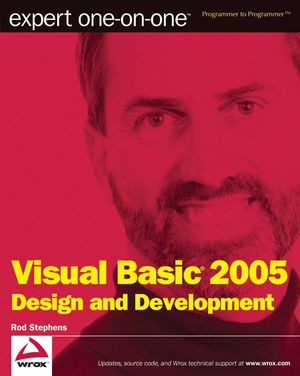 Description
Get ready to take your applications to the next level by harnessing all of Visual Basic 2005's tools for programming, debugging, and refactoring code. In this hands-on book, you'll get proven techniques for developing even the most complex Visual Basic applications. Expert tips on modeling, user interface design, and testing will help you master the advanced features of this language. You'll learn how to make writing code more effective so that you can quickly develop and maintain your own amazingly powerful applications.
Acknowledgments.
Introduction.
Part I: Design.
Chapter 1: Language Selection.
Chapter 2: Lifecycle Methodologies.
Chapter 3: Agile Methodologies.
Chapter 4: Object-Oriented Design.
Chapter 5: User-Interface Design.
Chapter 6: Data Storage Design.
Chapter 7: Design Patterns.
Part II: Meta-Development.
Chapter 8: Snippets, Macros, and Add-ins.
Chapter 9: Scripting.
Chapter 10: Custom Controls and Components.
Chapter 11: Property Support.
Chapter 12: Attributes and XML Comments.
Part III: Development.
Chapter 13: Documentation.
Chapter 14: Development Philosophy.
Chapter 15: Coding Standards.
Chapter 16: Bug Proofing.
Chapter 17: Testing.
Chapter 18: Deployment.
Part IV: Specific Techniques.
Chapter 19: Splash Screens.
Chapter 20: Printing.
Chapter 21: Threading.
Chapter 22: Reflection.
Chapter 23: Memory Management.
Index.