Expert SQL Server 2005 Integration Services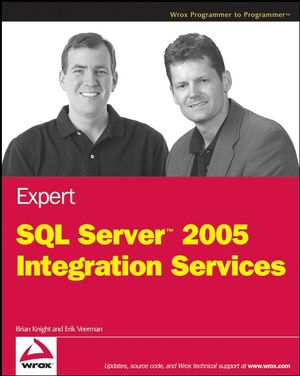 Description
As a practical guide for Integration Services ETL development, this book shows you ways to implement your ETL solution requirements from the data to the administration and everything in-between. Each chapter begins with a review of pertinent ETL concepts and moves into working those out into a design with multiple examples and related Integration Services features with the end goal of putting it all together to get a solution.
Acknowledgments.
Introduction.
Chapter 1: Getting Started.
Chapter 2: Extending Scripts in SSIS.
Chapter 3: Data Extraction.
Chapter 4: Dimension ETL with SSIS.
Chapter 5: Fact Table ETL.
Chapter 6: Processing Analysis Services Objects with SSIS.
Chapter 7: Package Reliability.
Chapter 8: Deployment.
Chapter 9: Managing SSIS.
Chapter 10: Handling Heterogeneous and Unusual Data.
Chapter 11: Migrating from DTS to SSIS.
Chapter 12: Scaling SSIS.
Index.
Code Downloads
Code downloads for this title are available here.
Download
Code Downloads
Code downloads for this title are available here.
Download
Code Downloads
Code downloads for this title are available here.
Code Downloads
Code downloads for this title are available here.
Chapter7EnterpriseLog.sql

Download
Chapter
Page
Details
Date
Print Run
13
error in variable
RowCount
should be:
@intCount
09/12/07

---

5
Error in Figure
Figure 5-40:
The order date needs to come between the start and end date.
11/05/07

---