Expertise Leadership and Collaborative Working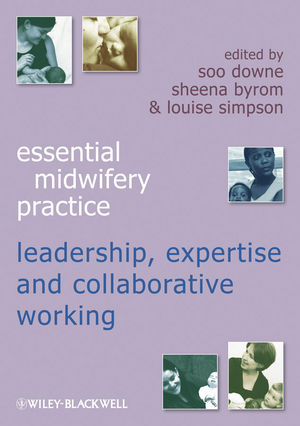 Expertise Leadership and Collaborative Working
ISBN: 978-1-444-32924-7
Nov 2010, Wiley-Blackwell
248 pages
Description
Leadership, expertise, and collaborative working are fundamental aspects of efficient and effective healthcare. This book offers a comprehensive overview of the general theories, principles and points of good practice in each of these three areas. This general literature is then contextualised by theoretical and practical implications for maternity care, and illustrated with in-depth case studies of successful innovation and change in practice.

Essential reading for all midwives, midwifery students, and others working in or studying maternity care, this book helps readers understand the theoretical underpinnings of effective leadership, expertise and collaborative ways of working.

Special features:
Part of the acclaimed Essential Midwifery Practice series
A theoretical and practical exploration of the nature and application of leadership, expertise and collaborative working in midwifery
Provides inspirational case studies of change and innovation
Brings together national and international experts in the field
Contributors.
Foreword.
Introduction (Soo Downe, Sheena Byrom and Louise Simpson).
Part I: Leadership.
Introduction to Part I (Sheena Byrom).
Chapter 1 Midwifery Leadership: Theory, Practice and Potential (Sheena Byrom and Lesley Kay).
Chapter 2 Transformational Leadership and Midwifery: A Nested Narrative Review (Sheena Byrom, Anna Byrom and Soo Downe).
Chapter 3 What Do Leaders Do to Influence Maternity Services? Midwifery Leadership As Applied to Case Studies (Sheena Byrom, Sue Henry, Mary Newburn, Cathy Warwick and Ngai Fen Cheung).
Chapter 4 Leadership for Effective Change in Mother and Infant Health: Lessons Learned from a Programme of Work on Breastfeeding (Mary J. Renfrew).
Part II: Expertise.
Introduction to Part II (Louise Simpson).
Chapter 5 The Notion of Expertise (Soo Downe and Louise Simpson).
Chapter 6 Expertise in Intrapartum Midwifery Practice (Louise Simpson and Soo Downe).
Chapter 7 Enhancing Expertise and Skills Through Education (Denis Walsh).
Chapter 8 What is a Skilled Birth Attendant? Insights from South America (Anne Davenport).
Part III: Collaboration.
Introduction to Part III (Soo Downe).
Chapter 9 Collaboration: Theories, Models and Maternity Care (Soo Downe and Kenny Finlayson).
Chapter 10 Case Studies of Collaboration in the UK and China (Ngai Fen Cheung and Anita Fleming).
Chapter 11 Using Collaborative Theories to Reduce Caesarean Section Rates and Improve Maternal and Infant Well-being (Alison Brodrick, Nicky Mason, Janet Baldwin and Sophie Cowley).
Chapter 12 Bringing It All Together (Soo Downe, Louise Simpson and Sheena Byrom).
Index.
"The book is well-structured and easy to read. There are numerous exemplary case studies and opportunities for self-reflection and, I would recommend it as a practical guide for those interested in developing good practice in their professional role."  (Babble, 2012)