Explaining Culture: A Naturalistic Approach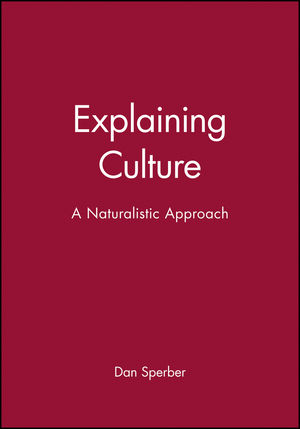 Explaining Culture: A Naturalistic Approach
ISBN: 978-0-631-20045-1
Nov 1996, Wiley-Blackwell
184 pages
Description
Ideas, Dan Sperber argues, may be contagious. They may invade whole populations. In the process, the people, their environment, and the ideas themselves are being transformed. To explain culture is to describe the causes and the effects of this contagion of ideas. This book will be read by all those with an interest in the impact of the cognitive revolution on our understanding of culture.
Preface.
Introduction.
1. How to be a True Materialist in Anthropology.
2. Interpreting and Explaining Cultural Representations.
3. Anthropology and Psychology: Towards an Epidemiology of Representations.
4. The Epidemiology of Beliefs.
5. Selection and Attraction in Cultural Evolution.
6. Mental Modularity and Cultural Diversity.
Conclusion: What is at Stake?.
Notes.
References.
Index.
"Dan Sperber is to be thanked for continuing to contribute to dialogue between the cognitive and social branches of the human sciences."
Daniel Nettle, Merton College Oxford
"Apart from its wealth of insight, cogent arguments, apposite illustrations, and lucid and entertaining prose, Explaining Culture also offers a glimpse of what cultural study might be: rather than foreclosing possibilities on the strength of received wisdom or a selective interdisciplinary which rules out so much interesting thinking, it makes its own start on the formulation of fresh, apparently basic but at the same time far-reaching research questions. Alan Durant

"Sperber emphasizes macro-and micro-processes of distribution that make cultural transformation and individual development possible and most simply processes of replication. Sperber offers the beginnings of a naturalistic theory of both culture and religion that will interest students and scholars alike." Susan Henking, Hobart and William Smith Colleges Geneva

"Explaining Culture is a good read. It is full of interesting suggestions on a wide range of anthropological and psychological issues." Kim Sterelny, Music and Letters, Vol 110, July 2001.