Explorations in Glass: An Autobiography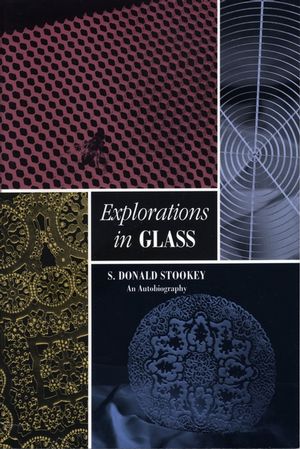 Explorations in Glass: An Autobiography
ISBN: 978-1-574-98124-7 July 2000 Wiley-Blackwell 74 Pages
Description
S. Donald Stookey tells of his pioneering discoveries and accomplishments over a life-long career at Corning Glass Works. His discoveries and inventions have left their mark in homes around the world, and have affected the development of eyeglasses, defense systems, electronics, and significant discoveries for years. Learn how one man's risks, questions, interests, and explorations have benefited us all. A refreshing addition to your ceramics library!
Table of contents
INTRODUCTION.
MY INTRODUCTION TO CORNING GLASS WORKS.

PHOTOSENSITIVE GLASSES.
Photosensitive Copper Ruby.
Photosensitive Gold Ruby.

Photosensitive Opal Glasses.

Polychromatic Photosensitive Glass: Full-Color Photographs.

Photochromic Glass: Reversibly Darkening Glass.

Some Bizzare Happenings with Photosensitive Glasses.

FOTOFORM® Glass: Glass That Can be Photochemically Sculptured and Etched.

The Invention of FOTOCERAM®: The Lucky Accident that Launched Glass-Ceramics.

The FOTOCERAM® Story.


THE FIRST GLASS-CERAMICS: A NEW FAMILY OF CERAMICS MADE FROM GLASS.

Cordierite Radome Glass-Ceramic.

CORNINGWARE®, Cookware from Low Expansion Spodumene Glass-Ceramics.

Transparent Low-Expansion Glass-Ceramics.

CORNINGWARE® Patent Infringement Trial: Corning Glass Works vs Anchor Hocking.


THOSE DEVILISH OPAL GLASSES.

The Tricky Thermometer Opal.

The Wellsboro Opal Light Bulb Adventure.

The Charleroi Barium Phosphate Opal Dinnerware Trial.


CHANGING THE NATURE OF GLASS.

Unbreakable Glass and Glass-Ceramics.

Undersea Strength: Compressive Strength.

Machinable Glass-Ceramics.

The Search for Toughness.

Jadeite Stone: Weapons of New Zealand Maoris.

The Search for Rubbery Glass: Hydrosilicate Glass.

An Unexpected Bonus: New Process for Porous Silica Glass and Low-Temperature Glassmaking.


REFLECTIONS ON THE SCIENCE OF GLASS AND ON PIONEERING RESEARCH.

A REVIEW OF SUCCESSFUL COMMERCIAL PRODUCTS BASED ON MY INVENTIONS.

SOME EXTRACURRICULAR ADVENTURES.

Dayspring-Housing for the Elderly.

A College Professorship.

Other Adventures.


EPILOGUE.

Nanocrystals in Glass.

Photosensitive Polychromatic Silver Glasses.

Photochromic Glasses.

Glass-ceramics.