Explorations in Theology and Film: An Introduction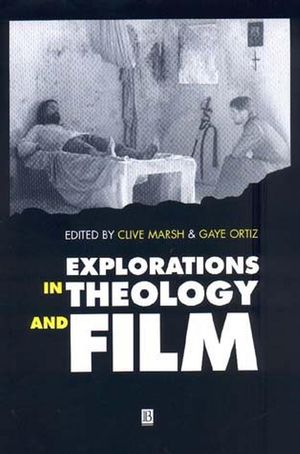 Explorations in Theology and Film: An Introduction
ISBN: 978-0-631-20356-8
Dec 1997, Wiley-Blackwell
308 pages
Description
Explorations in Theology and Film brings together theologians, biblical scholars, film and media specialists, and experts in language and literature to consider the potential of films contribution to contemporary Christian theological discussion. The main focus of the book is on the creative conversation between film and theology in the contemporary West, and it raises crucial questions about the interaction between theology and culture. Explorations in Theology and Film will be an invaluable resource to students and those researching in the areas of theology and religion as well as media and cultural studies.
List of Contributors.
List of Plates.
Introduction (Clive Marsh and Gaye Ortiz).
Part One.
1. Film, Movies, and Meanings (David Browne).
2. Film and Theologies of Culture (Clive Marsh).
3. The Uses of Film in Theology (David John Graham).
Part Two.
4. From Domination to Mutuality in The Piano and in the Gospel of Mark (David Rhoads and Sandra Roberts).
5. The Drama of Salvatin in George Stevens's Shane (Robert Banks).
6. Edward Scissorhands: Christology from a Suburban Fairy-tale (Peter Malone).
7. Redeeming Violence in the Films of Martin Scorsese (David John Graham).
8. Liberation in Awakenings (Ian Maher).
9. Jesus Christ Movie Star: The Depiction of Jesus in the Cinema (William R. Telford).
10. The Terminator Movies: Hi-Tech Holiness and the Human Condition (Gaye Ortiz and Maggie Roux).
11. Stuck in Time: Kairos, Chromos, ad the Flesh in Groundhog Day (Robert Jewett).
12. Moral Ambiguity and Contradiction in Dead Poets Society (Stephen Brie and David Torevell).
13. Between Eden and Armageddon: Institutions, Individuals, and Identification the the Mission, the Name of the Rose, and Priest (Vaughan Roberts).
14. The Spirituality of Shirley Valentine (Clive Marsh).
15. Did You Say "Grace"?: Eating in Community in babette's Feast (Clive Marsh).
16. Optimism, Hope, and Feelgood Movies: The Capra Connection (Stephen Brown).
Part Three: .
17. On Systematizing the unsystematic?: A response (David Jasper).
18. Theology Beyond the Modern and the Postmodern: A Future Agenda for theology and Film (Clive Marsh and Gaye Ortiz).
Annotated bibliography.
Index of Biblical references.
Film Index.
General Index.
"I can see great similarities between a church and a movie-house. Both are places for people to come together and share a common experience."
Martin Scorcese, The Century of Cinema: A Person Journey
"Explorations in Theology and Film is an intriguing and worthwhile addition to the burgeoning literature on religion/theology and film." Isabel Wollaston
"This is a fine book which will become essential reading for those engaged in media studies but will also be valued by any who are interested in theology and culture." David Bridge
"A start has been made, to take seriously the dominant art form of the last hundred years, to acknowledge that it too can have a part in the theological enterprise, and for that it is to be welcomed." Tim Noble
* Raises crucial questions about the interaction of theology and culture.
* Considers the contribution made by film to contemporary theological discussion * Contains an extensive resource section.